Home to Poland's Arka Gdynia football club, the Gdynia Municipal Football stadium seats more than 15,000 spectators who are the beneficiaries of a new networked audio-driven sound reinforcement system.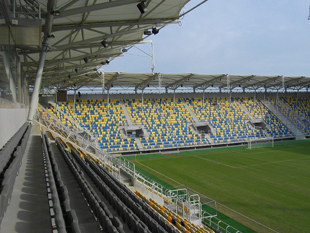 Local company Mega Music pressed its audiovisual installation division into action under the direction of Piotr Nowiński, and installed DAS Audio DR-12 -range loudspeakers, DAS BiDriver Plus and CL-6T ceiling speakers.
'The DAS DR-12s were our loudspeakers of choice for the audience seating areas,' Nowiński says. 'The uniform dispersion characteristic enables us to provide even coverage of the audience seating with a minimum number of boxes. The high sensitivity and flat frequency response of the loudspeakers enabled us to achieve a high SPL with no compromise im sound quality. For the field, the BiDrivers Plus provide extreme throw, while maintaining high sound quality.'
The stadium's grandstand areas are divided into 44 zones with 84 DAS DR-12 enclosures insalled around them. With its Polypropylene enclosure, the DR-12s used for this project were custom built by DAS to the IP54 rating for outdoor use. The football field itself was divided into four zones with eight BiDriver Plus systems installed. The Bi-Driver Plus incorporates a co-axial speaker built into a special horn unit and is particularly well suited to applications where a high level of speech intelligibility is required. 'With its long throw characteristics, this was the perfect choice for the field areas,' says Nowiński.'
Coverage for the stadium's corridors and select outside areas is addressed through another 30 zones. For these areas, DAS Audio CL-6T ceiling speakers were used. Equipped with a multi-tap line transformer for distributed audio systems, the CL-6T is a two-way, passive, ceiling loudspeaker incorporating a 6.5-inch cone low-frequency transducer and a ferrofluid cooled 1-inch soft-dome high-frequency unit with integral diffraction ring.
'The distributed main audio system that we designed for this project is managed by a Symetrix SymNet DSP processor, networked via a four-node CobraNet set-up,' says Nowiński. 'The main system is fed by Ashly NE8250PE multichannel, networked amplifiers. Both the SymNet and Ashly amps are controlled via a PC application. Audio mixing is handled via a Crest Audio XR20 analogue mixing desk located in the control room. The corridor areas are run by a Bosh Presidio network controller and Bosh PRS amplifiers.'
With the new sound system in service, Nowiński reports that stadium management, the players, and the fans are all noticing a dramatic improvement in the sound quality: 'We getting perfect, uniform sound coverage throughout the audience stands and across the field,' Nowiński proudly notes. 'The sound pressure level (SPL-A) ranges between 111dB and 113dB with no significant drops to be found anywhere. Equally important, the sound quality is excellent. We're experiencing very good frequency range and, remember, there were no subwoofers used on this project. With the help of the folks at DAS Audio, I believe we've created a really impressive system that will serve the area's football fans for years to come.'
More: www.megamusic.pl
More: www.dasaudio.com
More: www.symetrix.co