Coke Studio India is based on the Coke Studio TV show format first seen in Brazil in 2007, Pakistan the following year. The show – a joint venture between MTV and the Coca-Cola Company called Coke Studio @ MTV – invites musicians from different genres to jam together and makes live recordings of the resulting collaborations.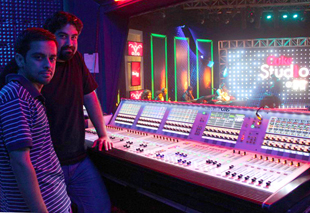 Expectations of the show's sound are very high. Considering the live nature of the programme in a studio set-up, the sound systems and the mix have to be impeccable. The choice of equipment, therefore, has to be of international standard…
A veteran of some of the most challenging events in India, Sound & Light Professionals was called on for equipment and support. For mixing, SNL Pro used a Soundcraft Vi6 console.
Involving the best musical talent in India, the show aims to bridge contemporary and traditional styles of music, celebrate differences and explore the musical depth that spreads out across the vast cultural panorama of the country. The hour long episode of Coke Studio on MTV features six songs – from genres including Carnatic and Hindustani, compositions by new musicians, recreated Bollywood tracks, and a special song created on the show. The collaborations brought together Shafqat Ali and Shruti Pathak, Sunidhi Chauhan and Wadali Brothers, Kailash Kher and Papon, Shankar Mahadevan and Khogen Da, and Bombay Jayshree, Richa Sharma and Rashid Khan among others. The result is a divine fusion of music that embraces the essence of India. As many as 45 singers from folk, classical and qawwali team up with other artists and create new compositions and interpretations.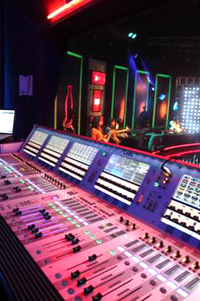 'We are extremely proud to bring alive the magic of live recording and performance with Coke Studio @ MTV,' says SNL Director, Manish Mavani. 'SNL has a vast selection of equipment to choose from, and we had to ensure a very high quality mix to support the best possible multitrack recording for postproduction. We chose to work with Harman's Soundcraft Vi6 console for its convenient operation, and tried and tested performance. We have used the Vi6 for large, live events in the past and it has proven to be perfect for our needs. It is intuitive in nature and offers great mix and output especially in situations which require dynamic mixing requirements.'
'In a live sound situation, the ease of operation is essential for a smooth functioning and a successful event,' adds Harman Professional India Senior Manager Marketing, Ankush Agarwal. 'Since its launch in India, the Vi6 has gained popularity with all leading sound engineers and sound rental companies.'
MTV Coke Studio is gaining a big following in India. The programme stands out for its unique format – and the sound of its eclectic mix of artists and musical instruments.
More: www.harmanproindia.com
More: www.soundcraft.com