The Joint Audio Media Education Support and Gus Dudgeon Foundation for Recording Arts jointly held an advanced music production experience course in the Gus Dudgeon Studio Suite at the University of Glamorgan recently.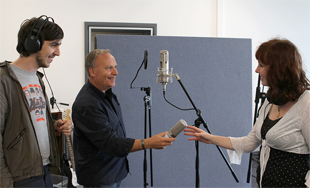 The suite houses the original MCI console specified by Gus in 1975, on which he recorded hit albums by Elton John, Jeff Beck, Chris Rea and many others. The course was presented to seven of the UK's top graduating music technology students and sponsored by KMR Audio.
The Foundation established in Gus's name has been a registered charity for some years now but has struggled to raise the funds to carry out this level of course. Now, thanks to KMR's sponsorship, the Joint Audio Media Education Support (James) organisation and the help provided by the University of Glamorgan, the ambition has achieved reality. Additional mics were provided by DPA Microphones.
'It was a great honour for me to lead this course in its inaugural year,' said its Executive Producer, Phil Harding. 'With the postgraduate students from various James accredited courses around the UK, we spent a fantastic week recording two songs with Cardiff band The Thieving Beggars. Thanks goes out to Dan Turner, who on behalf of Glamorgan University engineered the sessions and kept the MCI desk massaged and working tremendously for the whole week.'
The students' reaction was equally enthusiastic: Eduardo de la Paz, from Mexico and the only overseas student, who has just graduated from the LIPA BA (Hons) Sound Technology said: 'The opportunity to observe and assist a top producer in a professional studio environment for a whole week was an experience from which I learned in so many different levels. I am sure this course will help me in the future development of my skills and attitudes as an aspiring engineer/producer.'
'The week spent shadowing producer Phil Harding and engineer Dan Turner was an invaluable insight into a professional recording session,' said David Leighton, a graduate in the same course from Coventry University. 'Not only did I learn multiple techniques in terms of instrument miking and Pro Tools use, but I also learned how to conduct a professional session and the level of "etiquette" associated with a studio assistants job. The course gave me a chance to discuss with those already established within the music industry how to approach the music business as a producer and recent university graduate, something which I hadn't previously had the chance to do. Overall the intensive weeks course is a fantastic opportunity for those serious about moving into a career revolving around the recording studio and I would highly recommend it'
'I knew Gus through the Music Producers Guild, where he was held in great respect for his contribution to the art of record production,' Jim Barrett, principle lecturer at the university summed up. 'It is a great privilege to run this course both in his memory and to pass on the art he developed. Taking the top students from James accredited university awards, Phil Harding was able to take them through a whole production process that opened their eyes to the way he works with a band, to recording techniques like the achievement of recording separation with screens in a large live space, to string arranging and recording, and to open their ears to the magic sound of Gus's own MCI desk. This was a week to remember for them and, hopefully, the first of many memorable weeks for us.'
'The course is exactly the sort of experience that Gus would have approved of, and our thanks go to everyone who made it possible,' said Chris Hook, Secretary and founder of the Gus Dudgeon Foundation. 'KMR Audio gave us sponsorship and the loan of two fabulous vocal mics, DPA microphones for a the loan a great range of instrument mics and to the team at JAMES for their enthusiasm in helping make this happen. I am already planning the course for next year which we hope to make the ambition of every serious music technology student.'
More: www.jamesonline.org.uk
More: www.gusdudgeon.com
More: www.kmraudio.com