HH Electronics has appointed Australis Music Group as distributor for the Australian market.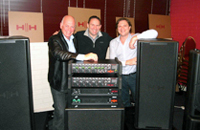 'With almost 40 years in the Australian MI and Audio business, Australis Music Group is a solid business partner who we believe will excel in representing this iconic British brand in their market,' says HH Sales Manager, Ian Wright. 'Australis Music Group currently represents Laney in Australia, so the addition of HH to their portfolio of brands is a perfect fit. Servicing more than 240 stores in Australia as well as the Pacific Islands, Australis Music Group is excited to expand its offering to MI stores as well as to professional sound re-enforcement installers.'
'Including HH into our portfolio of brands is a very natural direction for us,' adds Australis Music Group CEO, Trevor Morrow. 'To represent such a legendary British brand in Australia is an honour, and with its strong proposition of quality and value we believe we can grow the brand substantially in the Australian market'.
The announcement follows the recent appointment of other distributors for the Asia-Pacific region.
More: www.australismusic.com.au
More: www.hhelectronics.com