Among Europe's largest summer music festivals, the 2011 Roskilde attracted 130,000 visitors and hosted around 170 artists over its four days. Appointed an L-Acoustics Rental Network Agent earlier in the year, the loudspeaker system for the Orange stage was supplied by Nordic Rentals pressed its K1 system into use. Moto Rental, also an L-Acoustics Rental Network Agent, supplied a V-Dosc/dV-Dosc system for the Arena stage. The Pavilion Tent, meanwhile, used a Meyer Sound system provided by Danish rental company Comtech.
Orange and Arena stages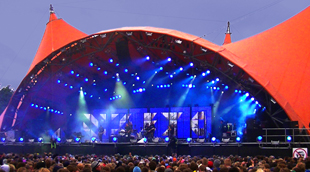 'The sound was especially designed for the broad range of artists who visited the Orange Stage,' says Nordic Rentals' Thomas Christensen. 'It was able to create an almost electronic club sound for artists like Deadmau5, as well as classic stadium rock for artists such as Kings of Leon.'
The extensive system on the Orange stage consisted of 72 K1 cabinets with 24 K1-SB subs, 48 SB28 subs, 26 Kudos, 28 Karas and six SB18 subs, all powered by 75 LA8 amplified controllers in LA-Raks.
'It was a pleasure for all of us at the festival – organisers, bands and audience – to listen to the amazing K1 system, which gave the audio quality of the Orange Stage a great leap to the top,' says Paul Jensen, from the Stage Section of the Roskilde Festival. 'We were most satisfied with the system and the professional manner in which the Nordic crew took care of it.'
Over at the Arena stage, Moto provided two main hangs of 10 V-Dosc cabinets with six dV-Sub subwoofers per side, and an LCR subwoofer system of four SB28s left and right, and eight centre, in cardioid mode. Two dV-Doscs were used for front fill and six for out fill, with four delay systems of four dV-Doscs each.
Nordic Rentals also used its K1/Kudo system for a string of Prince concerts across Europe.
The Pavilion Tent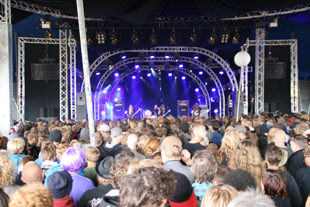 Using a system based on JM-1P arrayable loudspeakers, Comtech preferred the horizontal control and sonic performance offered by the Meyer Sound system. 'I have done the Pavilion stage for several years,' states FOH System Tech, Troels Wohlfeldt.
'We started out using line arrays, but they never really worked for us in this tent. There were too many loudspeakers from too many different positions to cover the whole area. With JM-1P, we finally found our way home.' 'The Meyer Sound JM-1P system performs perfectly and meets all requirements for a tent like this,' confirms Pavilion stage Sound Manager, Markus Bock.
The set-up comprised five JM-1P loudspeakers per side, flown above three 700-HP subwoofers, with two legacy UPA-1C loudspeakers per side as front fill and out fill. Outside the tent, four additional UPA-1C loudspeakers were used as delay. For FOH monitoring, a pair of UPJ-1P VariO loudspeakers and a USW-1P subwoofer were used. System alignment and equalisation was provided by a Galileo loudspeaker management system. 'With the Galileo TruShaping filter, we could easily compensate for the huge humidity change we experienced in the tent throughout the festival,' says Wohlfeldt.
According to Jes Christensen, Comtech Production Manager for several Roskilde stages, using Meyer Sound gives him peace of mind: 'The quality is extremely high, and we never have surprises,' he says. 'We have great trust in the system and the tech crew from Meyer Sound.'
Light work
Following the energy-efficient formula first used at Roskilde 2009, the low consumption of GLP's impression LED range was again in harmony with the 'Green Footsteps' programme of Denmark's largest music festival.
Production substantially ramped up the number of GLP LED fixtures, so that this year the main Orange stage boasted 174 impression 90 units and 48 impression XL, presenting the house and incoming LDs with a vast colour palette from which to set up their cues.
There was a vast demand on the inventory of Danish rental company, Comtech, who also supplied the lighting systems for other stages. This included new-generation GLP products such as the impression Spot One – with 24 designed into the rig on the Odeon stage alongside 56 impression 90s, while a further 36 impression 90s lit up the Pavilion stage.
The lighting design was again in the experienced hands of Comtech manager Lars Nissen, supported at FOH by Thomas Brockman.
'GLP has enjoyed an increasing involvement in the Roskilde Festival since 2009, when we first started supplying the event to help keep the energy consumption down. This year we provided them with almost 350 impression fixtures,' says GLP Director, Kasper Gissel. 'One notable change this year was that the Odeon became the first Roskilde stage ever to run 100% on LED fixtures – and they are uniquely from GLP.'
More:
www.nordic.dk
More:
www.motoaudiosales.dk
More:
www.l-acoustics.com
More:
www.meyersound.com