Gulf Shure distributor Nicolas Kyvernitis Electronics Enterprises (NMK) has supplied Dubai-based A/V rental company Mediakraft with wireless microphone systems from the UHF-R series.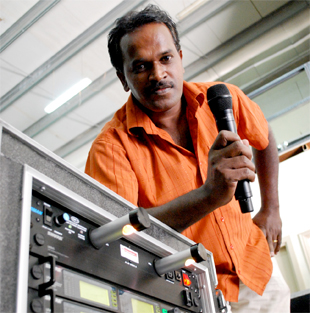 The purchase includes receivers and transmitters from the top-of-the-line UHF-R series, including the new UR4D+ receiver, which allows up to ten units to be cascaded without the use of an antenna distribution system. 'The UR4D+ and the UR4S+ are the latest update to the highly popular and successful UHF-R series from Shure,' says NMK Shure Product Manager, Shajahan KK. 'Mediakraft have recently open a new office in Doha (Qatar) and has invested in additional channels to supplement their inventory there.'
The UHF-R series is the most powerful and flexible wireless system to date from Shure. The system addresses the extreme conditions of large-scale touring or installation with solid engineering, and reliable RF performance provide sound professionals with the features and flexibility they need to tightly control up to 108 systems for the most elaborate productions.
More: www.mekraft.com
More: www.nmkelectronics.com