Take That's Progress Live 2011 tour is making news as the fastest-selling live tour in UK history. Taking in 36 stadium dates across the UK, Ireland and Europe, its sound requirements have fallen to Capital Sound, with help from Delta Sound.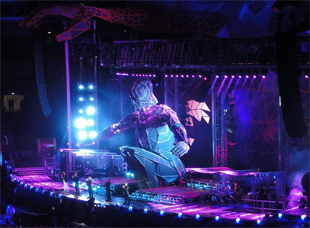 With the Pet Shop Bos playing support, the gigs use two DiGiCo SD7 desks at FOH position – one exclusively for Take That, and the other for all other duties. Two more SD7s are being used for monitors, this time with one for the members of Take That and the other for the backing musicians. A fifth DiGiCo console, an SD9, is being used monitors for the Pet Shop Boys. All consoles share three DiGiRacks via a fibre-optic multicore.
The tour is the first time that Take That FOH engineer Gary Bradshaw has used the SD7: 'Being laid out in banks of 12 fits really well with this production,' he says. 'There are 80 inputs, so I've got drums on one bank, band on another, vocals on another and rest of the VCAs in the middle.'
The show features 'mini-sets' performed by Take That in both their four and five-piece incarnations, which are interspersed with Robbie Williams performing several of his biggest solo songs. In order to accommodate all this, plus several instrumental interludes to allow for costume and set changes, Bradshaw has all the songs programmed as snapshots, some songs even having a couple of different snapshots within them. 'All I have to do during the show is press "next",' Bradshaw says. 'I'm using multiband compression on some of the vocals and outputs, plus multiband EQ on the latter, just to smooth things out. It's something I wouldn't have been able to do on any of the previous DiGiCo desks and it sounds great, I think it's the best-sounding desk on the market.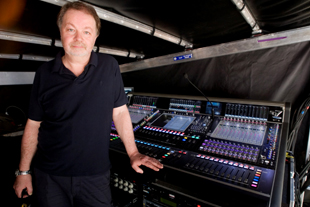 'When we set up in each new venue, I can play things back at show volume and make any changes I need without the boys or the band having to be there. It also saves a lot of time at soundchecks, of course,' he adds.
At the monitor position, Steve Lutley does the five singers' mixes on one SD7, while Simon Hodge does those for the band on the second. 'Between us, we're doing 22 in-ear mixes, plus an additional 12 hard-drive mixes,' says Hodge. 'With this size of production you often seem to run out of outputs, but the SD7 has almost unlimited buses, which makes it really the only desk I know of that could do this job.'
Hodge and Lutley profess to being very happy with the desks' performance: 'It's really good, a very pleasant experience, both operationally and sound-wise,' says Hodge. 'The SD7 is a great console.'
More: www.digico.org