'I see my work at least once a night watching TV,' says Chicago Recording Company Senior Post Engineer, Eric Cauwels, 'and that doesn't count other rooms producing national spots on a daily basis here.'
If Chicago is the production hub of the Northeastern US, the Chicago Recording Company (CRC) is the hub of post work in Chicago…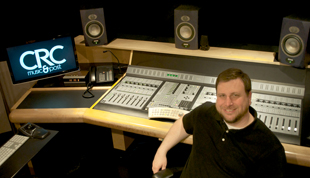 Maintaining that success requires consistency of service, technical staff and the technology they employ, says General Manager Chris Shepard, who recently equipped six post rooms with Tannoy Reveal 501 and 601 close-field monitors. For Shepard, a major driver in the choice is the Reveal's accuracy and management of the midrange. 'Tannoy has always been known for that,' he says. 'We like the Tannoy Reveal as part of our CRC standard. It's all about being able to make creative decisions quickly. That's why we chose them.'
In all, 40 Reveals are used in the post department alone – as mains, as well as in full 5.1 and Precision configurations –for projects ranging from radio and television spots to dialogue replacement for film.
In Studio One, Cauwels' primary workspace, the system comprises of three Tannoy Reveal 601s as LCR, two Reveal 501s as surrounds and a single Tannoy sub. 'I use them for my surround sound and as my close-field monitors,' he explains. 'What I like about them, is they translate well to the end format. One of the biggest challenges of being a mixing engineer for television and radio is that your work is played on a variety of speakers. My job is to make it sound as good on TV as it did in here. Then I know that my speakers are doing a good job, and that's the case with the Reveal's. I also like that you can tailor them to a specific room using the EQ adjustment on the back.'
'When folks have a project on the line and their name is going on it, they want to work with talented people who'll work to their timeline,' says Shepard. And by folks, Shepard means A-List celebrities including Jennifer Hudson, Vince Vaughn and Oprah Winfrey. 'We tested a bunch of speakers. But what CRC has done in the past few years is standardise our rooms, and the Tannoy Reveals are a part of our template – we not only picked Tannoy as our monitors, we picked them as the reference for our company.'
Founded in 1975, CRC is the largest independent studio in the nation. It has nine full postproduction suites and clients including Kawasaki, Coors and Philip Morris, and film credits running from Black Swan to Pixar's Toy Story franchise.
More: www.chicagorecording.com
More: www.tannoy.com/StudioSummary.aspx