The new Bulgarian National Sports Arena is now complete, with design and installation of the audio systems having been in the hands of local audio specialist, ProAudio.
Located near the Pliska Hotel, east of Sofia's centre, Arena Sofia is the largest and highest standard multi-discipline indoor sports venue in Bulgaria. With a 12,000+ capacity, the 16,000-sq-m venue is built on five levels, one of which is underground. In addition to the main sports hall, it incorporates dressing rooms, a training area, fitness centre, spa, restaurant, press conference hall and underground parking for nearly 1,000 cars. As well as providing a national facility for sport, the arena has also been designed to host music concerts.
The arena construction was handled by Glavbolgarstroy AD, who appointed ProAudio for its audio requirements.
ProAudio designed the system for the main hall of Arena Sofia based on a Community R2 loudspeaker system. A total of 24 R2-694Z, 12 R2-474Z and four R2-77Z provide complete and consistent coverage for the audience and participant areas. These are supplemented by 12 twin 15-inch, 3kW Community i215LVS subs, which dramatically extend the low frequency power and impact of the system.
'We have used Community R- Series on many large projects in the past and knew they would be ideal for Arena Sofia,' says ProAudio MD, Stanislav Petrov. 'With high intelligibility and sound quality, accurate coverage patterns, high SPL and proven reliability, they have given us exactly the results we expected. We also get outstanding technical support from Community's TAG (Technical Audio Group), which gives an added level of assurance to our design.'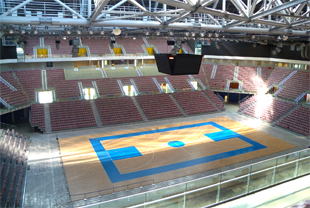 The loudspeakers are driven by Powersoft M50Q amplifiers, and mixing and DSP is handled by a TOA D-2000. The system also incorporates a D-2012C remote console and two D-2008SP digital mixing processor units with 32-in/32-out configuration. CobraNet interface modules are also used. The microphones are TOA wireless, with power antenna distributor, and Audio-Technica Pro 45s for hall ambience.
The green-conscious design of the Powersoft amplifiers offers valuable operational efficiency: 'Efficiency has been a key factor when we opted for Powersoft amplifiers during system design,' says Stanislav Petrov, Managing Director of ProAudio Ltd. 'Low power consumption is definitely cost-saving in the long run, particularly for a venue like the Arena Sofia. You don't find many 1U amps out there that draw less current from the same output, generating less heat and saving the client money, while still retaining outstanding sound quality. It was a pretty easy decision to make.'
ProAudio also designed and installed the public address systems used throughout the venue, including a separate VA system based on the TOA VM-3000, however the most immediately noticeable installation for evening visitors to Arena Sofia will be the two Griven Sky Rose HMI 2500 MkII DMX wideangle multi-beam sky projectors, which are mounted on top of the building and are visible from up to 10km.
'Arena Sofia was a very important and prestigious project for our company and it was important for the design and products to meet specification.' says Petrov. 'I am pleased to say that we and the client are both impressed and very satisfied with the results.'
The training area is already in operation and the first major sports event will be a volleyball tournament between the national teams of Bulgaria and Serbia at the end of July. Arena Sofia will host its first concert in October, with Jean Michel Jarre.
More: www.proaudio.bg
More: www.communitypro.com
More: www.powersoft-audio.com