Replacing old systems and improving capability is a regular part of the Sydney House remit. The most recent area of the iconic venue to benefit from this rolling programme is the Drama Theatre, which has received and extensive refit including its sound system.
'I've been doing this job for about a year,' says Jeremy Christian, Head of Sound and A/V Services at the Sydney Opera House (SOH) and responsible for the Drama Theatre refit. 'I know d&b audiotechnik had a system design in the pending tray for about a year before that. Having waited that long, when two weeks of dark time unexpectedly surfaced in May, we had the opportunity to access funding, and get the equipment in and fitted.'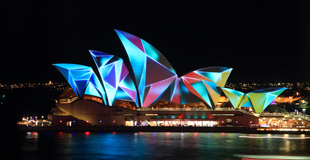 The Drama Theatre is used mainly for spoken word, dance and musicals, with some concerts and occasional talks. A proscenium venue, it seats 544 people on one level. 'For spoken word the acoustic works well unsupported by amplification,' says Christian. 'The main use for the new PA is sound effects and light amplification, although for music, the room handles high SPLs with no loss of control.'
'Designs in the Drama Theatre can require upwards of 30 mixes, so we wanted to expand the number of output feeds to the PA,' explains Cameron O'Neil, SOH Head of Technical Support. 'After a great deal of research we settled on the Nexus router from Stagetec to perform the level of control and reliability required.'
Another factor was loudspeakers and their placement as the theatre offers few locations that do not blocksightlines – d&b's Australian Distributor National Audio Systems (NAS) had called in d&b audiotechnik's Application Support team head Ralf Zuleeg when the project in 2009.
'We ended up following Ralf's initial design in most areas,' says O'Neil. 'There are now 22 cabinets in the standard FOH rig, Q10s LR with E12s for the orchestra fill and delay, while E8 loudspeakers deal with the surround. There are also J-INFRA subwoofers for low frequency reinforcement. Everything is individually amplified; we use the d&b R1 Remote control software for d&b's amplifiers to calibrate all of the loudspeakers for time alignment, room EQ and gain. That means we can use the Nexus for the matrix and busing controls, and it is now a relatively simple matter to link in a lot of channels to the Recording Studio when needed. We've also included a couple of Nexus XDSP cards to allow us to have EQ, delays and mixing within the router.'
The installation work was designed by the SOH in-house technical team. 'That was one of our great wins,' says O'Neil. 'The consultation, the DSP design and the project management was all by the Opera House, then tendered to an integrator, as opposed to contracting everything out. NAS responded quickly with the equipment when the window of opportunity presented itself, and were very forgiving of our changes to the order.'
'The money saved doing so much in-house allowed us to budget for a portable stage system that augments concerts,' Christian confirms. 'The earlier Concert Hall installation and the amount of work that went into choosing that system meant we were committed to consistency across all our venues. That was a big influence in choosing d&b, but there was also its proven reliability, and everybody loves using the d&b products. This system should be able to service all our needs for performances in the space for years to come.'
More: www.sydneyoperahouse.com
More: www.dbaudio.com
More: www.nationalaudio.com.au