Chosen to manage the audio needs of programmes from talking head news to multi-microphone panel discussion productions, KNME's facility-wide move to HD production is centred on a Solid State Logic C10 HD Compact Broadcast Console.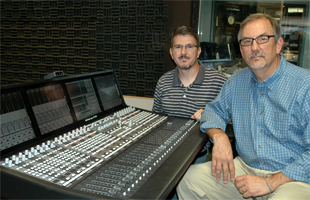 A New Mexico PBS located in Albuquerque, KNME has gained improved workflow, depth of features for high-end applications and ease-of-use for a wide range ofoperators from the new desks. In addition, it is now 5.1 ready for future surround productions.
The largest PBS station in New Mexico, KNME uses the C10 to produce the weekly prime-time New Mexico in Focus news magazine show, as well as daily production spots for Fox, CNN, MSNBC and CBS – KNME is a primary feed point for news coming out of New Mexico. The station reports that, for the multi-microphone panel segments, the C10's Dialogue Automix and access lockout features have been a game changer for the production staff.
More: www.solidstatelogic.com