Taking a gig outdoors can bring as many acoustic problems as it loses – and not just for rock bands. Accommodating more than 20,000 classical music fans, Leeds Castle (in Kent, UK) was the venue for a recent Royal Philharmonic Orchestra performance, with an Outline sound system supplied by Britannia Row.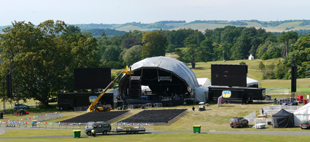 As well as being an Outline rental house, Britannia Row has committed to Lake as their chosen system processor, with their dry and wet hire inventory finding its way onto many major tours and events across the country, including the shows at Leeds Castle.
'The situation with this site is actually very complicated,' says Outline UK MD, Peter Barnard. 'It's not a square site like many other events, it goes off to a left hand dog leg at the far end of a sharp incline. It is very, very long – the furthest seating position is 354m from the stage – so we needed precise control and processing of the delay towers, which is where the LM 26 comes in. We made full use of the LM 26's Dante capability giving us full redundancy; it has become the fool proof protocol to use at the moment. One of the delays will be configured via radio link, purely because of the distance involved.
'What we are actually flying here is 24 of the new Outline GTO full-range cabinets, and also 42 of the renowned butterfly cabinet, all controlled by Lake LM 26 and Lake Controller software. LM 26 is definitely the one that has risen to the top of all processing systems over the past year. The original DLP became a great favourite with the industry, and the LM 26 has quickly become what could be called the new industry standard, such is the level of use across the board nowadays.'
Ian Barfoot, Director at Tech-Serv Audio Consultants, has worked with the likes of Rick Wakeman in his career, and was the orchestra mix engineer at the Leeds Castle show. 'I've been using Lake on systems for ages, from the very early days of Contour, even before it was Dolby, and have always loved it,' he says. 'Now, with Lab.gruppen getting behind Lake Processing, the LM 26 is another chapter in the story, and I really love it. I love the MESA EQ, although I don't get a chance to use it as often as I would like. I think it's one of the nicest sounding EQs out there.'
As well as the distinctive EQ, the Dante capability was another reason that Ian was glad the LM 26 was being used at Leeds Castle. Audio which is transmitted over analogue cables can be adversely affected by signal degradation due to electromagnetic interference, high-frequency attenuation, and voltage drop over long cable runs. Whereas with digital audio distribution over Dante, the audio is arrives at the other side in a pristine state.
'Dante was a thing that I jumped on quite a lot in the earliest days, because I love the idea of it and as transport medium I think it's great,' Barfoot continues. 'We did some work, with a lot of assistance from Simeon Ludwell (Lab.gruppen/Lake UK Sales Manager), on a huge show here last year. The sort of event where your first job is to row 200m across a moat with a fibre cable, because your PA gear is on an island in the middle of a moat, and your control position is 250m the other direction. Using Dante over the fibre made it much easier for us to do this event than using the typical copper multi-core.'
For his mixing desk, Ian was using his preferred Allen & Heath iLive, which worked with the LM 26 through an additional Dante card. 'It worked really well,' Ian said. 'I'm a bit of an iLive fan, and even more so with the new Dante card as it allows simple and seamless integration into large-scale, high-quality audio networking. I love using it, and the ease of set up with the LM 26's makes it all worthwhile.'
More: www.britanniarow.com
More: http://lake.labgruppen.com
More: www.srdgroup.co.uk
More: www.outlineuk.fsnet.co.uk