Apex CloudPower amplifiers have been employed as part of a full audio system installation at the recently completed MoSiR Sports Centre in Katowice, Poland.
MoSiR Sports Centre is a multifunctional stadium complex, providing a focal point for amateur and professional sports and recreation in the city. The centre encompasses an athletics arena, full-size soccer pitch, baseball field, and a pair of multi-role courts for volleyball, handball and basketball. Athletics facilities at the venue include a running track and dedicated areas for high jump, shot put, polevault and long jump events. A workout zone and cycle track complete the complex. Three stands with a combined total of 500 seats accommodate audiences for athletics events and football league matches.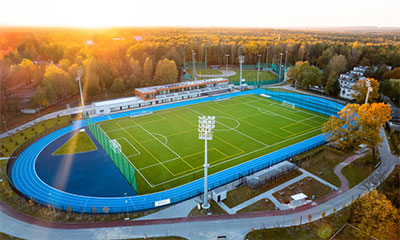 The contract to design, deliver, and commission the audio system to meets the diverse needs of MoSiR Sports Centre was awarded to Tommex, an established distributor of professional audio equipment with a long track record of delivering high-profile stadium projects across Poland. Tommex selected a variety of RCF loudspeakers to fill numerous specific roles across this large, complex site.
Coaxial 15-inch P-series P 6215 loudspeakers were employed in the athletics arena, with P 4228 loudspeakers around the baseball field and 8-inch P 3108s for the multi-purpose courts. RCF MQ 80P indoor/outdoor loudspeakers were used in the stands, while DU 31 wallmounted loudspeakers were installed inside the club building for voice messages and background music playback.
Tommex Key Account Manager, Tomasz Lulkiewicz, specified four Apex CloudPower amplifiers for the project, including one CP3004D (4x 3kW), one CP354D (4x 350W) and a pair of CP1504Ds (4x 1.5kW), all featuring integral 4 input Dante modules. The ability of CloudPower amplifiers to drive low impedance and 70/100v speakers allowed Tommex to use them to power the many different speaker models deployed across the complex.
'We have used CloudPower on previous stadium projects, so we were confident that they could help us achieve excellent audio quality throughout the MoSiR Sports Centre,' Lulkiewicz explains. 'Some of the RCF P-series loudspeakers are up to 200m from the amp room, so the ability to control the amplifiers remotely using Apex's IntelliCloud WebUI saved us a lot of time during commissioning and system tuning.'
The entire audio system is connected via a Dante network, with inputs and outputs routed through a Yamaha MTX5-D audio matrix, equipped with a PGM1 multi-zone microphone and DCP4V4SEU wall controller. A mobile commentary station allows commentators to stay close to the sporting action. The commentary station is equipped with a Yamaha MG 16 XU audio mixer, Sennheiser EW 100 wireless sets with both headset and handheld mics, a Denon DN-500CB audio player, ARX Blu-DI Bluetooth receiver, and M-Audio BX5 listening monitor.