Comprising four independent music venues in the heart of The University of Manchester campus, the Manchester Academy complex hosts hundreds of gigs that attract over 300,000 fans each year. In the past, the venue has hosted music legends, ranging from David Bowie and Jimi Hendrix, to Lady Gaga and Adele.
The principal and largest of the venues, Academy 1, recently completed an audio overhaul, upgrading an existing L-Acoustics sound system to future-proof the venue and ensure that it continues to attract major artists. Opened in 1990, the 2,600-capacity Academy 1 was a purpose-built venue to augment the existing and smaller Academy 2, Academy 3 and Club Academy venues in the University's Students' Union.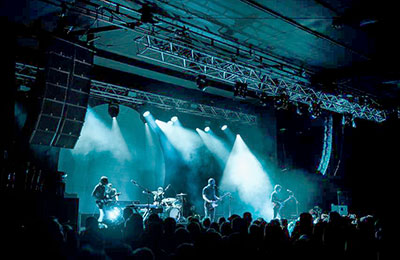 Academy 1 was designed to attract A-list artists, and it succeeded from day one, and saw the Buzzcocks perform on opening night. The original sound system comprised L-Acoustics' V-Dosc, specified and installed by Liverpool-based event technology specialist Adlib, who were again appointed to manage the new audio refurbishment.
'Adlib has a long-standing relationship with Manchester Academy, and alongside the in-house tech team, we've selected L-Acoustics for all the venues over the years, with Kara systems currently in Academy 2 and 3, and ARCS in Club Academy,' says Adlib Installation Project Manager, Rob Crossland. 'Academy 1's V-Dosc was installed by us around 12 years ago, so it was time to upgrade. There were aspects of the system that were working really well, but there were also improvements we knew we could make by exploiting L-Acoustics' new technology.'
The Adlib team, in collaboration with Dave Morrissey and Marios Sozos from the Academy's technical team, designed a system comprising L-Acoustics long-throw K2 cabinets as main hangs, with KS28 subwoofers, X12 for balcony delays, and A10 Wide for in fill and front fill. The system is driven by LA12X and LA4 amplified controllers, complemented by a P1 Milan AVB processor and measurement platform for tuning the system.
'We hung seven K2, with four ground-stacked KS28 per side. Two A10 Wide sit on top of each stack of KS28 for in-fill, with a further two evenly spaced between the KS28 for front-fill. K2 is lighter than V-Dosc, which allowed us to fly an extra element on each side; this means coverage of the room is a lot smoother,' Crossland explains. 'The tight timescale for this installation was only possible because of Soundvision and the integration with Network Manager – we spent a long time testing different options and perfecting the design in SV, including the use of an auto filter. When our commissioning engineer walks into the room and loads the file we are already 90 per cent of the way there, this is great for the venues because closing for a long period is very costly.
Adlib was restricted to a break in the venue's schedule for installation and commissioning. Given only four days, a team of expert Adlib install techs were enrolled to fit all new cabling, amplifier racks, and a new multicore, as well as the L-Acoustics concert audio system. A new L-Acoustics stage monitor system was supplied at the same time to cater for artists with a preference for a traditional wedge system. It comprises 13 X15 HiQ wedges, two SB18 subwoofers for drums, with one KS28 high-power subwoofer below two A15 Focus cabinets per side, all driven by LA12X amplified controllers.
'Manchester Academy is always very keen to keep up to date with new technology, so this was a nice project to work on. It's great to bring the next generation of a product range into a venue and embrace the new refinements and innovations,' Crossland reflects. 'The combination of LA12X, LA4X and P1 gives venue technicians a lot of tools to keep the system operating at peak performance. A load checker is the ultimate way to spot trends and changes in your system and get on top of failures quickly. Milan AVB allows flexible routing and console changeovers without having to re-patch the back of the amplifiers or even leave the mix position; Network Manager security features allow us to protect the system calibration while allowing touring productions full access to the powerful features on the P1 processor. All this adds up to a great-sounding performance.'
More: www.l-acoustics.com