Expanding its presence in the Middle East, EAW has named GSL Professional as a new distributor for the Gulf Cooperation Council (GCC) region and Egypt.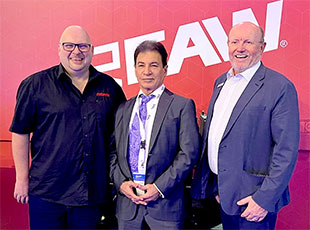 Established more than 20 years ago, GSL has assembled ateam of highly experienced professionals to offer comprehensive solutions for use in recording, broadcast, hospitality, houses of worship and stadia applications. The company's alignment with EAW further cements this position.
As the A/V and live sound markets in the GCC region continue to grow, GSL recognised the importance of a partnership with EAW, seeing a good fit for ther equirements of local events and productions. 'We are thrilled about our partnership with EAW,' says GSL Professional President and CEO, Fouad Fowzi. 'EAW's combination of innovative design, strong customer relationships, ongoing product development and commitment to quality and performance will be key to its success in this highly competitive market. Together, we will continue to deliver exceptional sound solutions to our clients in the GCC region and Egypt.'
Further investing in EAW's regional customers, GSL offers a dedicated service center located in Dubai to support clients and ensure a satisfactory after-sales experience. Featuring highly skilled and experienced technicians, the service center handles a variety of maintenance, repair and support services. Additional support can be found through GSL's product specialists, who offer on-site assistance that stems from a thorough knowledge of EAW and extensive industry experience.
'Welcoming GSL Professional as our newest distributor is an exciting venture for EAW,' says EAW President, TJ Smith,. 'GSL provides only the highest level of technical, marketing, service and sales support, for both consultants and integrators, as well as venue operators, engineers and end-users. We look forward to creating a strong and enduring partnership that will bring more opportunity to our GCC-region customers.'