With vaulted ceilings, wooden pews and stone masonry throughout, the Decorated Gothic style of the church St Mark's Church in the heart of Philadelphia's Rittenhouse Square neighbourhood suffered from a reverberation time of 3s. Seating more than 450 people, its parishioners celebrated the church's architecture but were challenged by its acoustics. Seeking a solution, the church staff called on Joe DiSabatino, lead design engineer at JD Sound & Video, to design a new audio system for the sanctuary.
DiSabatino partnered with local acoustical engineer Hadi Sumoro of HX Audio Lab to model the acoustics using Ease in order to design a suitable loudspeaker system, then contacted Renkus Heinz's regional representatives at Audio Associates to assist with the installation.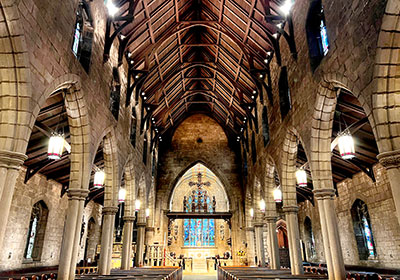 JD Sound & Video installed IC Live Gen5 ICL-F-Dual-RN arrays in the nave to improve speech intelligibility and provide even front-to-back coverage. Renkus-Heinz's Rhaon II System Manager software was used to define the opening angles for as many as eight sonic beams from each ICL-F-Dual-RN array module and aim them up or down.
Additionally, the slim enclosure are inconspicuous and, for St Mark's installation, an artist custom-painted the cabinets in a complimentary stone motif to help them further blend into the space.
'We have an extensive history working with Renkus-Heinz loudspeakers, and the Ease model showed great performance in the nave,' DiSabatino says. 'The company's beam steering arrays eliminated the need for delay speakers, which would have required mounting to columns, something the church would not approve.'
Six compact CX41s were tucked away close to the pulpit and choir areas, acting as monitors for liturgical services. The compact four-inch loudspeakers deliver full-range performance in a space-saving design.
The church staff are reported as thrilled with the audio improvements. Masses are intelligible for the entire nave – even parishioners sitting in the back of the large sanctuary can now understand the liturgy.
'We'll continue using IC Live for challenging acoustic environments like St Mark's,' DiSabatino says. 'The beam steering is second to none for reverberant spaces.'
More: www.renkus-heinz.com