Recently opened in East London, audio post facility Fonic has installed PMC monitors in its new Dolby Atmos mixing studio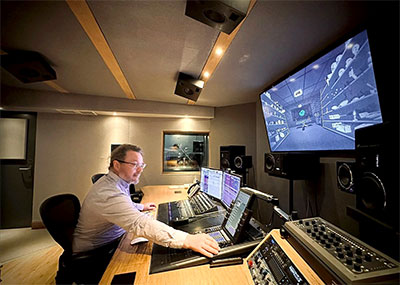 The studio has been built to meet growing demand for Dolby Atmos mixing, and is equipped with a 7.1.4 Dolby Atmos system comprising PMC6 monitors for LRC channels, a PMC8Sub and PMC Ci45 and Ci30 monitors (four of each) for the surrounds. It complements Fonic's other audio facilities, which include five sound edit suites, a Foley studio and an isolated voiceover booth.
Fonic's owner Barnaby Templer, who also has PMC monitoring in his studio in Muswell Hill, says PMC was the obvious choice for the new facility. 'As a leading sound design postproduction house with a rich pedigree, we don't compromise on the quality of our output or the quality of the technical equipment that we use in our studios,' he explains. 'I chose PMC monitors for the new studio because I really like the off-axis sound they deliver. There is a real warmth to PMC monitoring and a wealth of harmonics that make them great to work with, especially over long periods of time. We are all very pleased with the audio quality the new system delivers.'
Founded by Templer and Jake Roberts in 2004, Fonic is based at Hackney City Farm, a rural oasis in the heart of London, and provides audio for a range of production companies including the BBC, ITV, Channel 4, Netflix, Amazon and Mattel. It has also worked with advertisers representing major brands such as Jaguar, Rolex, Land Rover, Kellogg's, Yakult and Chipotle, and on feature films such as Rose Play Julie.
However, it is in the area of children's television that Fonic really excels. Along with Thomas & Friends (originally Thomas the Tank Engine & Friends) and Hey Duggee, Fonic has also been working with Astley Baker Davies, the creators of Peppa Pig, since its first series. To date it has provided all the sound design, mixes and deliverables on more than 350 episodes.
'All that Fonic has achieved has been made possible by investing in equipment and people with extraordinary talents and years of experience,' Templer says. 'Our new studio represents a major upgrade and a significant investment. Atmos is here to stay – it is what clients want and we needed to be able to meet that demand.'
He adds that directors like the studio's strong creative vibe. 'We have a working relationship with Point1Post in Boreham Wood, and we often take cinematic clients there so they can reference and review their projects in a 45-loudspeaker theatre,' he says. 'The audio mixed on the PMC monitors in our new Atmos room translates perfectly on the larger system, and that is very satisfying.'
More: www.pmc-speakers.com