With six Country Music Association Awards, four Academy of Country Music Awards and three Grammy nominations to his name, 33 year-old Luke Combs is one of country music's leading lights stars, and is presently undertaking a major tour across North America in support of his recent album, Gettin' Old, principally playing NFL football stadia, accommodating crowds of up to 65,000 – and every show is already sold out.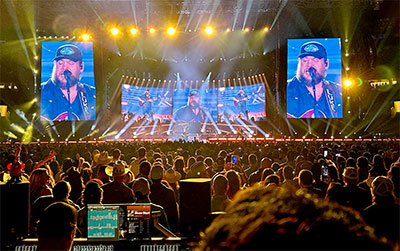 The Growin' Up World tour features Combs plus support acts Riley Green, Lainey Wilson, Flatland Cavalry and Brent Cobb, and demands not only a technical infrastructure able to deliver the shows (including a colossal stage provided by G2 Structures) but also an audio system that can handle all the nuances of modern country music. Special Event Services (SES) is the sound and lighting contractor for this tour, and is fielding the largest Outline loudspeaker system so far used for a major American tour.
'The size and layout of the venues plus the audience numbers led us to design a system using our Outline GTO inventory because we knew it had the combination of horsepower and accuracy needed to fill these stadiums, with the fidelity that Combs' music demands,' says Jason Farah of SES. 'We have to be able to cover an audience width of 220° from the stage, so the design is somewhat unusual in that the main LR hangs are actually slightly smaller than the side arrays.
'The LR hangs each comprise 16 Outline GTO line-array boxes over a single GTO-DF (down fill cabinet) with eight GTO-Low (bass extension elements) hung behind them, while the side LL/RR arrays include 20 GTO over one GTO-DF. Beyond them there are out fill LLL/RRR arrays, each comprising 26 Mantas 28 loudspeakers. We also deploy three delay towers, each loaded with six GTOs flown over eight GTO C-12 cabinets. The low-frequency support comes from 40 Lab21-HS subwoofers, while 20 LIPF-082 lip fills cover the area immediately in front of the stage.'
FOH system control and power is via two Outline Newton 16+8 FPGA processors, which also accept the outputs from the five mixing consoles used for the headliner and various support acts, while the loudspeaker system overall is powered by 90 Outline TTM12K4 amplifiers.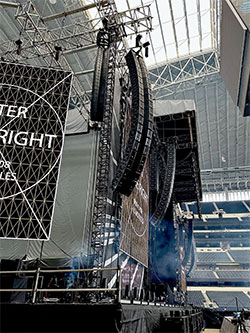 'Thus far, having completed shows in Arlington, Indianapolis, Nashville, Detroit, Pittsburgh and Chicago, every component of the system has performed flawlessly,' Farah reports. 'At the first show at the AT&T Stadium in Arlington, Texas, the house audio engineer remarked that he had never heard a PA throw so far and so effectively as our Outline GTO system.
'Outline's OpenArray 3D simulation software has accurately shown how to deploy the system to yield consistent results from stadium to stadium, and it sounds fabulous for the entire audience no matter where they are seated. This set-up also demonstrates again how easy it is to integrate different Outline loudspeakers to create a uniformly-voiced, totally consistent and very musical overall solution in a challenging environment.'
'Deployment of the Outline system has been an breeze,' says Systems Tech Joseph Lefebvre. 'There are a lot of elements to the rig and my team can get it in and out of the venue effortlessly, which gives me plenty of time to tune and align the system. The Armonía control software combined with Newton processors on the front end are all the tools I need to dial it in with minimal effort.
'Sonically, the PA has everything we're looking for. The low end is tight and punchy, and the high end is crystal clear without being fatiguing for the listener. Luke's vocals combined with the 8-inch drivers are a great combination. At distance, the PA provides clarity in droves and with the TTM amplifiers we have all the power and headroom we could ask for. All this in addition to the incredible stereo imaging of GTO makes for a memorable concert experience for everyone from the front of the venue to all the way in the back.'
'As an audio engineer myself, this PA has done nothing but impress me,' adds Production Manager Jerry Slone. 'Before we made the switch, I was shown audio coverage maps overlaid into a few of the venues we were playing this year and was caught off guard, to be honest. Our team, which I am extremely proud of, continues to strive for improvements, deploying this system has been just that, an improvement.'
'The PA that we're using this year stands head and shoulders above the rest,' agrees FOH engineer, Todd Lewis. 'Outline GTO boxes and accompanying C-12, Mantas 28 and Lab21 subs more than have the goods for the dynamic show that we put on. There's a very small learning curve to carrying over an existing show file to this PA, but it is well worth a listen. I'm sold on it. 102dB-A [at FOH, 170ft from the stage] with all that headroom, clarity beyond belief and a stereo image that is unrivalled make this the perfect system for Luke Combs' stadium tour.'