Writer, producer, mix engineer and co-owner of an boutique record label, Chris Leon has opened a Carl Tatz Design Reference PhantomFocus 7.1.4 Dolby Atmos MixRoom named The Vesper Room in Nashville, Tennessee.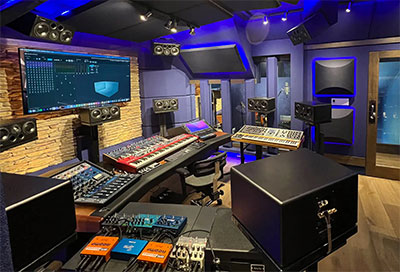 Born in Germany, Leon moved in the 2000s to New York City, where he worked on projects such as the soundtracks for Trolls (with Justin Timberlake & Anna Kendrick) and The Greatest Showman, as well as with artists including Namie Amuro, Nile Rodgers, Jota Quest, Charlie Puth and Matthew Koma. After moving his family to Nashville in 2021 and experiencing a two-channel PhantomFocus Monitor System at one of CTD's PhantomFocus MixRooms, he knew he wanted that kind of precision for his new Dolby Atmos room.
'Installed on the second storey of a detached two-car garage on Leon's residential property, this compact facility presented many challenges that needed to be addressed, both logistically and acoustically, for what Chris required,' says studio designer, Carl Tatz. 'Namely, we needed to accomplish several things: build a room-within-a-room for sound isolation without encroaching on the already limited square footage; extend the footprint of the space to include an over-dub booth; facilitate HVAC and electrical for the MixRoom, booth and computer closet; find a way to reach Chris's vision with the blue backlighting; and oh yes, accommodate a new 7ft Yamaha C7-X piano along with one of our Carl Tatz Edition Dual 15L workstations by Argosy.'
Studio amenities of this standalone facility include an outdoor lap pool, barrel sauna, ice bath and video screen-enhanced stationary bike, all of which Leon includes in his morning ritual prior to working on his many projects.
The Vesper Room features a 7.1.4 Dolby Atmos monitor system comprising 11 PFM HD-1000 Master Reference Monitors, which, among other performance elements, are the only professional monitors that feature a custom-designed cabinet with integral IsoAcoustics decoupling modules built in. Other elements include PhantomFocus Monitor Stands and clamp system mounts and two PFM ICE Cube-12 Master Reference Subwoofers in a 13-channel PhantomFocus System. The room also incorporates two PhantomFocus Porcelain eChairs and the custom CTD Acoustic Lens Signature Series side-wall acoustic treatment and custom modules by Auralex.
'I'm totally spoiled now working in my MixRoom, and that becomes quite clear when I'm forced to work in other rooms all over the world,' Leon says. 'There's just no comparison to its speed, accuracy and sonic pleasure.'