A new £4.1m creative institution opened by UDMusic and East London Dance in Stratford, UK, The Talent House comprises recording studios, rehearsal space, dance studios, workstations and teaching facilities aiming to suppor young talent in the community. A six-room record production and teaching facility is an integral part of facility, with an ASP4816 mixing console in Studio 1 and a large-format ASP8024 Heritage Edition console in Studio 2.
UD has worked with countless big-name acts during its 20 years in the arts, including Mercury award winner Little Simz, Skepta, Alex Boateng (0207 Def Jam), Wretch 32, Labrinth and Devlin. Through a series of talent programmes, UD aims to support aspiring singers, songwriters, producers, instrumentalists and DJs get a head start in the music industry with work experience and degree qualifications.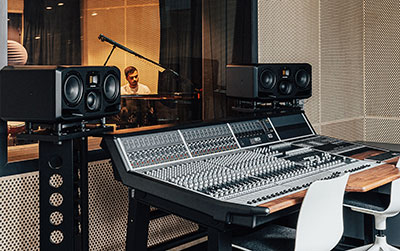 Fully spec'd and available for commercial hire as well as to students, UD Music studios are overseen by Senior Consultant, Danny Trachtenberg.
'The Audient desks have been great centrepieces to the studios. Their layout makes for both an intuitive experience for visiting engineers and useful teaching tools for students,' he says. 'The presamps sound is clean, EQs add a musical touch to recordings and the bus compressor adds classic glue to mixes.'
Level 4 accredited qualifications in Music Technology & Production start in September, with students able to explore the potential of each of the Audient consoles, as well as learning the ins and outs of taking commercial recording sessions. Those who complete a UD Level 4 course (awarded by the University of East London) can continue at university to finish a full degree.
'At UD, we understand that young people need the resources and space to create and explore their potential,' says UD founder/CEO, Pamela McCormick. 'Our state-of-the-art studios, powered by two Audient mixing desks, provides just that. UD continues to empower those trying to make it in the music industry to realise they already belong, equipping those who are breaking through into notoriously competitive creative environments with the tools they need: excellence, structure, confidence, opportunity and networks.'
It was with this in mind that UD's week-long Industry Takeover festival took place recently. Since its launch in 2009, Industry Takeover has built a reputation for offering an unrivalled programme of professional development, entertainment, education and networking opportunities, to hundreds of industry-minded hopefuls and is now regarded as one of the most informative career programmes within the wider music industry. Among the 20-plus events on offer this year was a sold-out studio Masterclass with platinum-selling producer, TSB (Stormzy, Knucks, Headie One, J Hus).
'UD's role is to develop, educate and connect young black talent to the business, and I'm excited that, through our subsidised – and affordable – membership programme, we will be providing an opportunity to elevate the talents of underrepresented communities and drive positive change to create a more diverse industry,' McCormick says.
More: https://www.udmusic.org/