Award-winning film composer and producer Asif Illyas has installed a Solid State Logic Nucleus control surface and MX4+Alpha-Link Madi SX virtual console and I/O system in his studio.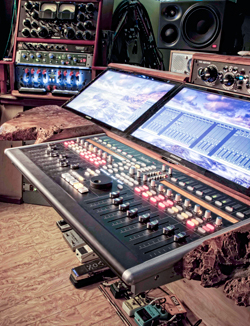 'I used to work exclusively in-the-box, but when I incorporated SSL's MX4 and Alpha-Link into my set-up the sound of the studio was transformed,' he says. 'Suddenly, we could hear things we never knew were there… the SSL gear revealed how our ears had been tricked with poor quality converters and pro-sumer soundcards.
'We then decided we wanted to work with "real" equipment – tape, preamps and a console. But big studio analogue gear is expensive, so I set out to see how I could use the computer to recreate a proper large format SSL console. And that's when I discovered MX4, the world of Madi and SSL console plug-ins.'
The Shire is located in Nova Scotia and gets results more commonly associated with major studios, something Asif attributes to his virtual console set-up.
'We wanted to create the zero-latency set-up that one is privileged to work with in bigger studios with analogue consoles,' he explains. 'Now we've set up a virtual SSL console by using a pair of Alpha-Link Madi SXs, an MX4 Madi card, the SSL's Soundscape Mixer with SSL plug-ins on each channel strip, and a Nucleus to drive the whole ship. The sound is just unbelievable.
'We can run at 96kHz, 24-bit with a fraction over 1ms latency. That's across 64 inputs and outputs, including direct monitoring for a 2-inch, 24-track tape machine. And this is all on one PC. The clarity and definition is second-to-none. We are getting the space, stereo definition and detail that you would expect with a large format digital desk but in a small-format set-up and on a small studio budget.'
In conjunction with upgrading the sonic performance of his studio, Asif wanted to regain tactile control of his system. 'We also wanted a control surface, but after seeing how below-par most of them were I was rather discouraged,' he says. 'Then I attended an SSL seminar, and discovered Nucleus. It's super-intuitive and feels like a lot of thought went into how it would work. The ergonomics don't get annoying, the buttons feel strong and nothing feels like it's going to break on you. The automation functions are great and the faders are the real deal. In fact, we haven't used a preset digital fade-out since we got it.Ahe song can have that nice, analogue, human, fade-out using the hands-on approach. We're also using the two SSL Superanalogue Preamps in the Nucleus because… well, they sound amazing.
'I'm very pleased with the system we have now at The Shire. I would dare say that it sounds better than many supposedly more professional systems that some of my colleagues use. I hope they don't read that…'
More: www.solidstatelogic.com