A system upgrade at an indoor ice rink at the NKT Arena Karlskrona included Apex CloudPower CP704 amplifiers.
The arena hosts ice hockey, curling, badminton, tennis, gymnastics, swimming and handball events, with the audio system refresh – sparked by the need for a new fire alarm system – being served on its secondary ice rink.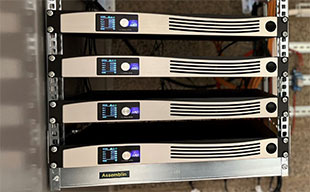 The installation project in the Swedish coastal city of Karlskrona was led by Ola Corneliusson from integrator Assemblin El AB, supported by technical consultant, Björn Lilja Faxhag. The Assemblin El team quickly identified opportunities to improve the audio experience for competitors and spectators, repurposing a number of Bose 802 loudspeakers and 502 subs from the main hall, creating the need for new amplification and system processing.
Swedish distributor Intersonic AB introduced Corneliusson to Apex's CloudPower remotely managed amplifiers, which had only recently become available in Sweden. Four CloudPower CP704 models were chosen for the project, each providing four channels at 700W and a comprehensive suite of system processing tools. All CloudPower amplifiers can be set up and monitored remotely over the cloud from a device running Apex's IntelliCloud WebUI.
'We needed powerful amplifiers with built-in DSP which could fit into the very limited rack space available,' Faxha explains g. 'CloudPower CP704 gave us the features we needed in a single rack unit, and at the right price point.
'The ability to control multiple amplifiers from a web browser proved to be a big time saver for us because we could stand on the ice, listen to the system and adjust the DSP. This was much more efficient than running backwards and forwards to the control room, where you cannot hear the loudspeakers.'
A Yamaha MTX3 matrix processor was selected to route all announcements, music sources and other audio signals in the hall.
More: www.apex-audio.be