The English market town of Cirencester is home to one of the country's largest parish churches. While visually impressive, the C12 architecture of St John the Baptist comes with acoustic challenges – striking stained glass windows and wooden pews provide reflective surfaces that create reverberation and muffle audio. Its old and inadequate audio system added further to poor intelligibility of services.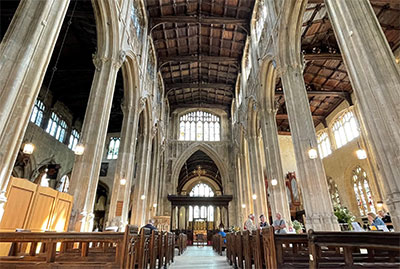 Together with UK supplier CUK Group, event and installation specialist Novum Audio Visual specified and installed three Renkus-Heinz ICC36/3 arrays from the US manufacturer's Iconyx Compact line, eliminating 12 unsightly columns and associated cabling from the white limestone columns of the 600-year-old nave. This was CUK's first installation of Renkus-Heinz products after taking on UK distribution.
The ICC36/3 uses a 36-channel digital amplifier to drive 36 3-inch, full-range, high-sensitivity drivers – an amplifier and DSP channel per driver. The Iconyx Compact loudspeakers are custom configured to provide the asymmetrical beam of sound needed for each space. At 3m in length, the columns provide directional control from 150Hz, and full steerability from 300Hz and above.
'The ICC36/3 column arrays were the perfect solution for St John the Baptist,' says CUK Live Sound Channel Manager, James Lawford. 'The design of the arrays goes a long way to ensuring low frequencies do not add excessive amounts of reverberation. By keeping sound off the ceiling and preventing a reduction in speech intelligibility, we can ensure every congregation member can hear every word spoken and sung no matter where they are seated.'
The church leadership was also concerned with architectural integrity from the outset, and wanted as little visual impact as possible. Novum Audio Visual used a colour scanner to match the tones of the stone architecture to a RAL colour code in order to custom finish the loudspeakers to blend into the background.
'The ICC36/3 column arrays blend in flawlessly with the church's intricate architecture,' reports Stuart Madden Novum. 'The main comment from visitors is "where's the sound coming from?" This church is the heart of the community, they deserved this with people flowing in and out every day. That's why it was so important to achieve a sound system that captures everything that's going on as accurately as possible.
'I'm often sceptical about new shiny things, but when you hear for yourself how accurate the coverage is, and how much control you have across the full bandwidth, you're soon convinced,' he adds. 'You can stand at the front or 25m back, and the SPL is the same. We already have more projects in mind that will be perfect for this.'