From humble beginnings as a local event hire business in Victoria, Production Corp has undergone a remarkable evolution. In operation for more than 15 years, the company has cemented itself in the industry and grown to become a notable provider of audio, visuals, lighting and mobile stages for live production. Since taking the reins in 2022, owner Eden Jefferson has brought a spirited enthusiasm to the development of the business, expanding its portfolio of hire solutions to include LED video walls and a collection of RCF loudspeaker systems.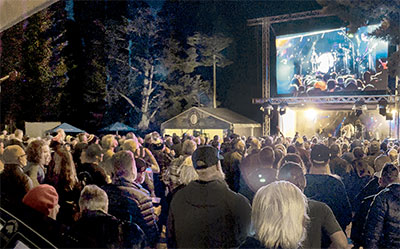 Drawing on experience gained running a successful video wall business for five years, Eden's approach to Production Corp was on display at Phillip Island's most recent MotoGP. Held at the scenic Phillip Island Grand Prix Circuit, the event has been drawing crowds since 1997, with attendance in 2022 climbing to more than 90,000.
Servicing a stage hosting live entertainment from day to night, Eden explains why he chose RCF's HDL 20-A line array system for the event: 'We needed something that would pack a punch. We went with four RCF HDL 20-As flown in an array on either side of the stage, with dual 18-inch Sub 8006-AS subs. We call the HDL 20-A our "gods of thunder", because they have great clarity and power. You wouldn't expect it from such a lightweight cabinet, but they really did the job well and threw a long distance.
'My absolute favourite thing about using RCF HDL 20-A cabinets is their power consumption,' he continues. 'It's something I've noticed sitting in the background observing events – you're getting equipment that is a lot more power efficient than plenty of other products on the market. With some events, you really need to be mindful of your energy use, but the technology behind the RCF brand is just so efficient in what it consumes compared to what it throws out. Especially at pubs and venues with 10A power outlets, you know RCF gear is going to sound fantastic and won't be tripping circuits.'
Citing the benefits of the system's durability, weight, and audio quality, Eden says that that the HDL 20-A system is now his go-to choice for a range of Production Corp's applications.
'They're super versatile; we love them flown and they're also great for ground stacking. We've played around with a lot of other systems, and they all have little areas of compromise, but that doesn't happen with RCF. Best of all, the products can take a beating. In this industry things are bound to get thrown around and may not get the kindest treatment during gigs – we've had some other things fall apart, but RCF just keeps going strong.'
Evidently an RCF enthusiast, Eden also counts a collection of the brand's other solutions in aural arsenal: 'The RCF 4Pro series system absolutely kicks; it's our ideal pub kit. It's perfect for inside venues and performs for 500 people easily. We also love the HD 10-A wedges, again for their size and what they can put out – they're really nice little monitor wedges, especially when space on stage is limited.
'I should also mention that ART 715-As are great for smaller gigs or front-fill on larger gigs – and if we've run out of the HDLs and need to fly them all, our next approach would be to use the 715s. But I doubt we'll be running out soon, as I plan to load up on more HDL 20-A speakers and Sub 8006-AS subs because they put a smile on my face every single time I use them.'
More: www.rcf.it