Co-founder of UK-based audio software company Cleanfeed, Marc Bakos has added PMC6 XBD monitoring to his London. The new monitors were supplied by pro audio specialist and PMC partner SX Pro as a replacement for Bakos' older PMC TB2S+ system.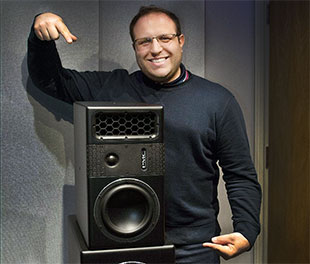 'I believe I was one of the very first in the UK to install these monitors,' Bakos says. 'I initially demoed a pair of PMC6s from SX Pro and helped with some beta testing. I eventually decided to invest in my own pair, along with their associated PMC8 Subs, because I was thoroughly impressed by them.'
Throughout his career,Bakos has trusted PMC loudspeakers for their sound quality. 'PMC speakers are a crucial tool in the work I do as they allow me to accurately judge sound quality and ensure the best possible results,' he says. 'I often spend long hours in my studio and that's where the quality of these monitors really shows. I like being able hear every detail in a piece of music and I also appreciate that PMC monitors are non-fatiguing, even at slightly loud levels, which enables me to work for longer.'
Bakos founded Cleanfeed in 2014 with business partner Mark Hills. This web-based software enables people to connect and record live with anyone in the world, using a web browser. Cleanfeed's effectiveness and simplicity has led to it being widely adopted by audio professionals as the 'go-to' tool for sending and recording live broadcast quality audio. It won its authors a Primetime Emmy for Outstanding Achievement in Engineering, Science & Technology in 2022.
'I've always had a passion for audio and technology, and that led me to study at Alchemea College [now the Abbey Road institute],' Bakos says. 'After gaining experience in the media industry, working with companies and individuals such as Global Radio, Metropolis Studios and composer Patrick Doyle, I became involved with a production music library, which was eventually sold to BMG. I've also had a career as an IT consultant, working with some of the UK's most highly-recognised architecture, interior design, restaurant and media businesses.'
In recent years Bakos has worked with various radio stations as a technical consultant. One such project led to him helping one of the largest regional radio stations in the UK to transition to a fully IP based transmission chain. 'I was the first to fully virtualise a multi-station radio transmission network. From the high-density audio processing right through to the antenna. I'm incredibly proud of this achievement,' he says.
Bakos' studio in London is the hub of all his activities, including development work for Cleanfeed and mixing and producing music. 'When you are creating audio tools like Cleanfeed for discerning industry professionals, it is really important that the quality of your monitoring complements the quality of the tools you are developing,' he says. 'I now have the ideal system and I couldn't be happier with its performance.'