Recently opened in downtown Bangkok, Italian fine dining restaurant Isola by Signor Sassi has installed an Allen & Heath as part of its audio system.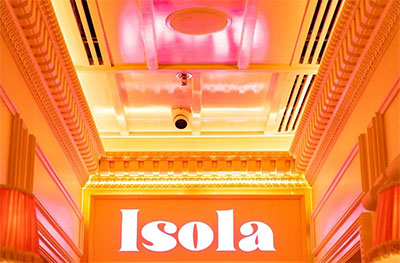 Offering a main dining area, VIP rooms and two terraces, the requirement was for zoned functionality with the ability to control sources and levels in all zones and presets based on time of day. With regular live music and DJ performances, a part of the restaurant's fare, integrator Aura Visual System specified and installed a Void Acoustics loudspeaker system supported by an Allen & Heath AHM-16 audio matrix processor to provide a cost-effective means of processing suited to smaller multi-room environments.
The AHM-16 is a 16x16 audio matrix processor featuring 8x8 local analogue I/O that can be expanded using remote audio expanders via an optional SLink card. The AHM also features Scheduled Events, enabling time-triggered preset recalls for automated operation throughout the working day with no input required from staff at a venue.
AHM is fully compatible with Allen & Heath's Custom Control, a customisable, cross-platform control app, allowing the integrator to create multiple user interfaces, tailored to different user levels and/or device types. A CC-7 touchscreen allows operation by non-technical users.
The restaurant's regular DJs performing take place during the later hours of the evenings, when restaurant General Manager Simone del Ferro uses the touchscreen to easily access and manage the music source selection, level control and preset recall.
'We have customised the GUI of the touchscreen controllers to make them blend in with the floral and lemon wallpaper décor," says Aura Visual System Sales Manager, Phankom. "Easy operation was an important factor – the restaurant manager doesn't need to be concerned with Automatic Noise Compensation, processing with crossover filter, limiter and delays on every input and zone. They simply want to change the volume or source in between greeting guests and overseeing dining operations."
With decor akin to an Italian or Moroccan bistro, Isola by Signor Sassi enjoys high-quality sound through a system that doesn't disturb its carefully crafted visual experience.