The largest civilian rescue organisation in Switzerland, Schutz & Rettung Zürich (SRZ) has equipped its command vehicle with a comprehensive communications set-up using Riedel Artist and Bolero intercom systems, as well as the RSP-1216HL SmartPanel.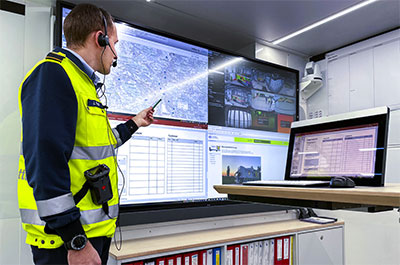 'Schutz & Rettung guarantees the best possible protection and safety for the population, both in everyday life and during major incidents,' says SRZ Staff Officer and Chief Situation & Command Support, Thomas Hauert. 'But in order for front-line emergency forces to manage events in the best possible way, we are dependent on operational resources that provide an overall view of the situation as quickly as possible. Thanks to Riedel's assistance over the past few years – in the extensive concept and planning phase, and also the implementation – SRZ has a command vehicle worthy of the latest generation.'
As a service division of Zürich's Security Department, SRZ unites the fire brigade, ambulance service, civil defense, operations control centre and fire police under one roof. SRZ responds to major incidents with a potentially high number of injured persons, such as bus, train or aircraft accidents; major fires and storms; and operations involving biological or chemical substances. In addition, the rescue organisations of Zürich Airport are integrated with SRZ's operational areas and services.
Measuring 10.25m by 2.55m, with a 6m slide-out, SRZ's command vehicle is designed to support the management of a major incident. When fully expanded, t accommodates a report room, a separate workroom, and a command support room.
Riedel's Artist proved to be the most convincing system capable of integrating with the Polycom digital radio system SRZ uses to exchange real-time information about emergency events. The solution deployed in the SRZ command vehicle makes radio, telephony, and intercom communications readily accessible via easy-to-use, six-button Bolero beltpack devices, each with a battery life of 17 hours.
Consolidating all of SRZ's voice applications on one system, this model relieves the officer-in-charge from the stress of monitoring multiple emergency communication sources. Volunteer members of the rescue team find the Bolero beltpack easy to use not just for making calls but also for monitoring and responding to the two digital Polycom radio channels.
'For SRZ, everything must work absolutely reliably in the event of a crisis,' says Erwin Engel, Sales Manager for Switzerland. 'We are happy to help SRZ and, ultimately, the people in the city and canton of Zürich, by equipping them with the communications equipment they need to respond to any major incident.'
More: www.riedel.net