Tree Goat Media (Treegoat) has announced the launch of Marbyl, an end-to-end ecosystem for search and discovery of podcasts and 'interesting moments' within them. With Marbyl, the US company reckons to have solved fundamental issues that prevent podcasts from being discovered, consumed, and monetised.

'Podcasting has picked up a lot of steam over the last decade, but the tools provided through today's popular listening platforms have failed to evolve, leaving most podcasters struggling to be found,' says Sherry Mills, co-founder and Chief Visionary Officer.
'We created Marbyl to help level the playing field for podcasts and make it possible for everybody to thrive by building an intelligent search technology that surfaces quality content regardless of a show's current popularity or reach. This, in turn, helps listeners discover podcast content that truly fits their interests based on keywords, topics and context.
'Beyond being discoverable in our network-agnostic search and discovery engine, podcasters on Marbyl are given their postproduction time back through AI-powered tools that bolster content strategy, improve quality of content, and streamline marketing to listeners.'
Present search functionality within podcast platforms frequently fails to show results for topics and keywords discussed inside their podcasts. Marbyl's podcast search and discovery analyses podcast content around topics and areas of interest, providing a deep learning analysis of every episode while unlocking the content for search that yields results based on what listeners are actively searching for.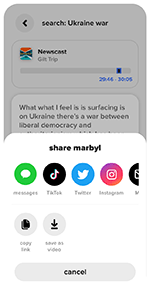 Podcasters who sign up with Marbyl have the option to have their entire library transcribed and 'marbylized'. Podcasts, and segments of podcasts, can be quickly found by keywords used within each episode.
The Marbyl AI automatically creates Marbyls (key moments in a podcast that you can listen to, read and share) from the five most interesting segments inside every episode published by a subscriber. It then makes those Marbyls discoverable, searchable and shareable without any effort required of the podcaster.
Podcasters can also manually create Marbyls in their podcast episodes. These are presented to listeners as they search for topics in the Marbyl app. Listeners no longer need to find, listen to or scrub through full episodes to find the content they are searching for.
Marbyl aims to hook listeners by serving short podcast moments focused on what they want to hear and draws them deeper into the surrounding context or podcast creator from there. 'Our vision for Marbyl was to create an ecosystem that could truly help podcasters transform their art into sustaining businesses,' says Treegoat co-founder, and CEO, Michael Kakoyiannis. 'Accomplishing this required developing new technology that could realise a democratisation of the system and bring audience growth and incremental revenue opportunities to shows on the 'long tail' in equal measure to today's top shows.'
Major podcast listening platforms give podcasters no direct access to their audiences nor to information about them, so they have to use social media to promote themselves. With significant, manual postproduction effort, they may edit their own clips and publish them using available tools, but these clips are not linked back to the podcast. Any increase in social engagement through this method often results in less-than-desired listener conversion.
Beyond being a powerful search and discovery tool, Marbyl also provides podcasters with data about the performance of their content, and tools to market new and existing episodes to their listeners. Marbyl intelligently automates the process of pulling interesting moments from podcasts, which can then be shared in email marketing and on popular social media platforms to keep fans and subscribers engaged and listening.
This sharing functionality means podcasters and producers no longer need to create separate content to promote episodes. Instead, they can use Marbyl to drive listeners directly to their podcasts. The platform also provides podcasters the ability to manage release scheduling, activate/deactivate Marbyls, schedule social media posts that share Marbyls, and send producer messages to their subscribers with push notifications via the Marbyl mobile app.
The data generated provides podcasters useful engagement metrics, including: Marbyl engagement rates, subscription conversion data, shares per Marbyl, listen-through rates, content popularity, and user-generated Marbyls, indicating the content liked most by listeners.
More: www.treegoatmedia.com