Installation amplifier manufacturer, Apex has been acquired by fellow Belgian professional audio business, Community Europe SA.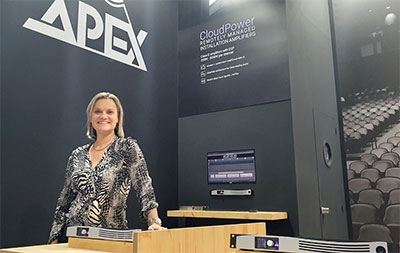 Founded in the 1990s, Apex recently attracted industry attention with its CloudPower amplifier range, which offers remote-control capability via the IntelliCloud WebUI. CloudPower was launched in 2020 and has subsequently won multiple awards. Community Europe has acquired full ownership of shares in Apex's parent company, GiVa Audiovisual Technologies BV.
'The response to CloudPower from distributors and integrators has been fantastic,' reports Apex Sales Director, Alain Boone. 'We know we have a winning product and more exciting designs in the pipeline. With the additional support and investment through Community Europe SA, I am confident we can continue to provide our partners and customers with world class products and service as the business levels up.'
'Apex is a brand with a bright future and access to investment and knowledge-sharing through Community Europe Group will help to secure and accelerate its continued growth,' says Community Europe SA CEO, Ann Leroy. 'Our priority is to support Apex with scaling up its manufacturing operations to meet the high customer demand for its ground-breaking CloudPower remote-controllable amplifiers, while unlocking capacity for the Apex R&D team to bring further innovative products to market.'
Community Europe SA supports the growth of Community Europe Group brands through investment in R&D, manufacturing capacity and international business development. Other Community Europe Group brands include professional loudspeaker manufacturer, Audiofocus, and online retailer, My Stage Shop.
More: www.communitysa.com