Belgian TV and music personality Bart Peeters recently completed 26 sold-out concerts at Antwerp's 8,000 capacity Lotto Arena, selecting DiGiCo's Q338 console from the UK company's flagship Quantum range for its capacity and highly flexible architecture – necessary for the accompanying choir and guest artists featured in the gigs.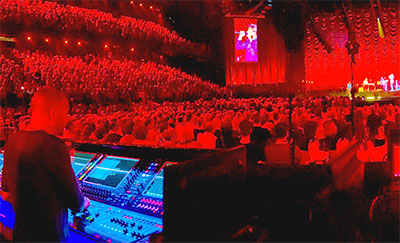 A prolific touring artist, Peeters performs in venues across the country and further afield in The Netherlands. The artist's enhanced show, entitled Bart Peeters Deluxe – Live in the Lotte Arena, was devised to be located in one larger capacity venue to accommodate a more elaborate programme, delivered in several shorter runs over a year-long period, and recorded for a live album production.
'I have been working with Bart since 2007, first as his monitor engineer, and from 2014 as FOH engineer,' explains engineer, Roel Snellebrand. 'For the smaller shows and theatre venues, we use two SD12 96 consoles, one at FOH and one for monitors, which gives us plenty of capacity, but the Deluxe shows and festival dates need a lot of extra inputs for guest performers and the choir. We needed to have more hands-on faders and screens, so the Quantum 338 was the logical upgrade from an SD12.'
Provided by nationally renowned A/V supplier, Amptec, the Quantum 338 manages the standard set-up for the band of around 48 inputs, plus around 40 extra inputs for the choir and guests. Snellebrand is also using a Waves Superrack system at FOH and an external Bricasti reverb as additional FX. The stage racks are SD Racks fitted with 32-bit I/O cards. The musicians are all using in-ear monitors, recently adopting a Klang system, which enables easy integration into the DiGiCo environment via a Klang DMI ca
'For me, one of the biggest benefits of DiGiCo consoles is the very flexible and intuitive automation system, and the way you can convert every session to every type of console. The greatest advantage with the console change on this project is that we can easily convert the existing SD12 session files to the bigger Quantum 338 and add all the extra requirements,' Snellebrand says.
'On the Deluxe shows, I prefer the workflow of a single Quantum 338 surface and I've immersed myself in the Mustard Processing which offers great new options for channel strip processing, so I can even migrate some of the Waves processing back into the console. Quantum technology offers ease, flexibility and efficiency, and the whole production team is really happy with the results.'
More: https://digico.biz