A large number of DirectOut Prodigy audio converters were recently chosen by broadcast specialists Timeline TV for their work on two very different high-profile, multi-venue televised sporting events. 'One of the main objectives was to build a system that could be moved between events in a relatively straightforward manner,' says Chris Goddard, a freelance Systems Engineer contracting for Timeline.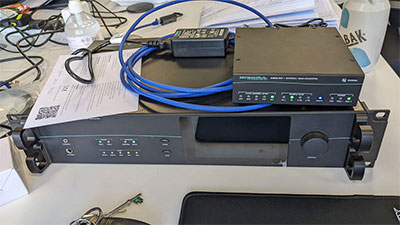 Comprised of 15 DirectOut Prodigy.MCs and 15 DirectOut ExBox.RAVs, the system was designed to facilitate the routing of both programme audio and comms between the International Broadcast Centre (IBC) and various sporting venues located across Birmingham and the Midlands, UK, using an Ethernet-based infrastructure.
The potential clocking issues arising from having equipment spread out over such a wide area were resolved by generating a local PTP clock signal in each of the locations, using a GPS locked Sonifex AVN-GMCS. 'All of the different locations were connected solely via IP,' Goddard explains. 'Video, audio, comms. Each venue had its own LAN, interconnected via a WAN, which was managed by a third-party company. The DirectOut Prodigys were essentially an extension of the video router, which had an audio layer presented via Madi to 15 DirectOut ExBox.RAVs at the IBC – one for each venue.
'Audio signals were then encapsulated into Ravenna streams, to be transported across the WAN to the various Prodigys around the city; which in turn were used to break out the audio to Analogue or Madi, as required at each venue,' he continues. 'Every Prodigy had a Madi connection with SRC available, in the event an ad hoc rightsholder needed to take or provide a feed, making it very easy for another OB Truck, for example, to gain access to the whole system's audio.'
With the first event having proved an unmitigated success, the system was deployed by Timeline for a second prominent international sporting event in Qatar, this time as part of the comms system. 'In Qatar the Prodigys were repurposed to become an extension of the Riedel comms system,' Goddard recounts. 'So, AES-67 (rather than the previous Ravenna) over a network link back to the IBC, but this time remaining as AES-67, and not converted back to Madi. Subscriptions could then be made to and from the IP based comms system, providing analogue 4-wires at the various venues.
'The choice of the DirectOut products was key to rapid redeployment/reconfiguring in the short period of time between events. Its flexibility in supporting different AoIP profiles made it a straightforward process. They're one of the only companies with really solid Madi implementation – whether it's generating a signal or locking to it, they just do it so well.
'Time is often of the essence on these jobs, and DirectOut devices always tell you exactly what's going on – the PTP timing graph, for example that shows you precisely the current and historic jitter, whether it's locking, all that important information. Also plenty of status LEDs that show you straight away, "I'm happy", or "I'm unhappy", via a quick glance at the front panel. There's no ambiguity, and I really like that in equipment.
'Their products are always a first consideration whenever Madi is involved. And having worked on some other projects that have involved their implementation of AES-67/ Ravenna/2110-30, it's again always a first consideration. There's not much else out there that combines everything in the way they do.
'GlobCon was a huge help as well – it certainly made my life easier. We had 15 Prodigys and ExBox.RAVs in the system, spread across multiple geographical locations, and with Globcon I can easily see all of the connected devices, with individual metering and monitoring, and access to configuration if and when needed.'
The Prodigy Series, ExBox.RAVs and Sonifex AVN-GMCS were supplied to Timeline by Synthax Audio UK.