Spearheaded by prominent musician, songwriter and producer Agnese Rakovska, the Zvaigznaja Klase (Star Class) project aims to reinvigorate high school music lessons across Latvia. Introduced at the Jūrmala State Gymnasium, the project is in its early stages but it is gaining momentum with lessons running in four schools already. Rakovska hopes to see the programme taken up in at least 20 schools through 2023.
Currently, music classes comprise singing, music theory and history. Agnese wants music lessons to be accessible and interesting to everybody – even those without a great singing voice. 'If you don't feel that strong in singing, maybe you can sit at the computer, maybe that's the right role,' she says.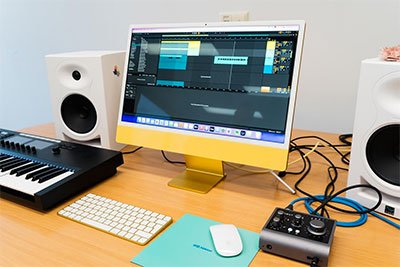 Rakovska and her team from the music platform Zvaigznajs believe this will promote students' creativity as well as open up opportunities for them when they leave school. 'The music industry and the creative industry in general is a very broad field. And that's why through music lessons, as they are here, I want these young people to be prepared for that big leap,' she says.
The initiative has seen Rakovska work closely with Rock Distribution, which has supplied Audient iD4 audio interfaces and Evo Start Recording Bundle (EVO SRB) packages, comprising Evo 4, headphones and a microphone, for the project. Rock Distribution's CEO, Edijs Rudzis reports that early feedback has been positive. 'Students say that the gear is easy to use, and there has been interest in testing out a home studio set-up.'
iD4 is a 2-input/2-output audio interface equipped with an Audient console mic preamp, class leading converters and a JFET instrument input. Popular in schools and colleges around the world, iD4s are chosen both for their professional performance, their reliability and their robust construction – among them are BIMM in the UK, CAMP Academy in Italy and Pearlbay Institute in India.
More: www.audient.com