American pop artist Max Schneider (aka MAX) recently completed a tour across North America. To mix sound, audio engineer and Signal to Noise podcast host Kyle Chirnside used a dual Allen & Heath SQ set-up, with 48-channel SQ-5 consoles at both the front of house and monitors, with a DX168 16-input stagebox for additional I/O.
'I wanted something small and compact,' Chirnside explains. 'I don't need any external FX or plug-ins, I use the built-in processing of the SQ. We also will have to fly during this tour, so I kept everything under fifty pounds to meet the requirements for air travel.'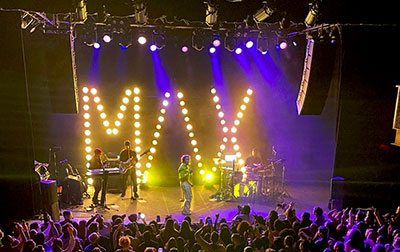 Even with a separate monitor console, there was no need for a dedicated monitor engineer on the tour as each of the performers mixed their own IEMs through the wireless SQ4YOU application. ('We basically have a "ghost' monitor engineer.) Chirnside also keeps an iPad near the front of house console, which can make adjustments as needed to the monitor SQ-5. But he noted that it's only there as a contingency plan.
Chirnside made use of the scenes function on SQ to create automations, allowing him to recall desired parameters and levels for each song. He also fine-tuned each scene to make the live performances of songs sound as good as their respective studio recordings. 'I do most of my work in rehearsal to figure out which reverbs or delays to go with,' he says. 'The gated reverbs and wide ADT doubler in SQ allow me to re-create the more electronic-sounding recordings. I really want everyone's cell phone video of the show to sound awesome.'
To make high-quality recordings of performances, Chirnside used the SQ's built-in SQ-Drive function – which allows users to record either two-channel stereo or up to 32 channels directly to an external USB hard drive. 'Awesome that I can do multitrack or main LR mix to my USB thumbdrive,' he says. 'I can hand off those recordings to the tour videographer, or even use them for a virtual soundcheck to tune the PA – it's been a super game-changer for me.'
'We love working with Kyle and the Signal to Noise podcast folks,' says Allen & Heath USA Director of Marketing, Jeff Hawley. 'I've seen a number of SQ-5 duo rigs like this popping up on social, with acts that have similar demands for a powerful and compact touring system that doesn't break the bank. It was cool seeing texts come over from Kyle as the tour kicked off and the band and the crowds all responded positively to the system and his mix. We certainly understand that there are a lot of contenders in the compact digital mixer space overall—and it is awesome that Kyle joined the ranks of engineers who are finding the SQ to be the best fit for their needs.'
More: www.allen-heath.com