With audiovisual and other key technologies fundamentally important throughout the education sector, a collaboration between Yamaha, AVer, Kramer, Speech-i and Viewsonic recently demonstrated the possibilities of hybrid education solutions at Cambridge Judge Business School, part of the University of Cambridge.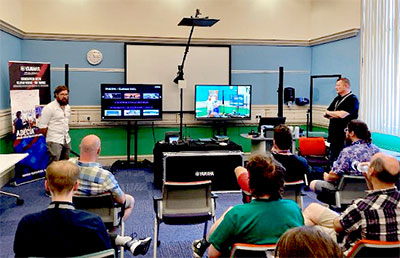 A one-day AVExpo was arranged by Yamaha Music Europe application specialist Scott Coltham and senior pro A/V engineer Mark Collins, in collaboration with David Amann, A/V and multimedia specialist at Cambridge Judge. Yamaha showcased its Adecia remote conferencing audio solution, together with its range of network switches for AV-over-IP and control traffic.
They were complemented by cameras and auto-tracking software presented by AVer, Kramer's showcase of equipment for video, control and wireless content sharing, the Cabolo real-time transcription and translation solution from Speech-i and Viewsonic's interactive display technologies. The event was well-attended by educators, IT and A/V technical staff, who all responded positively to what was on offer.
'The demonstrations highlighted how these technologies work seamlessly together to create a broad range of solutions to fit into a modern workflow, with the focus on both quality and ease of use,' Collins explains. 'They allow presenters to focus on presenting, fully confident that students are getting the best experience. Importantly, with events like these, the customer can communicate with the five companies at once, simplifying the decision process for high-end A/V and presentation systems.'
'It was my pleasure to host this event and see the manufacturers working together to form a fully integrated solution, which featured a wide range of technologies. Events such as this are hugely valuable to the tech community here at Cambridge, as well as our teaching faculty and professional support staff,' Amann says.
'Many thanks to David and his team for being such great hosts. It was a very successful day and we look forward to future collaborations with educators, demonstrating how hybrid education can be improved with the addition of just a few key components,' Coltham says.