This summer's writing camps hosted at Cenzo Townshend's Suffolk-based Decoy Studios were supported by the likes of Ed Sheeran, Lewis Capaldi, Clean Bandit, Sam Smith, Anne-Marie, Stargate, Medusa, Niall Horan, Louis Tomlinson, Max Martin, Steve Mac and Billen Ted. Such was their popularity that the count of Audient's iD14 and iD44 audio interfaces was raised to meet demand.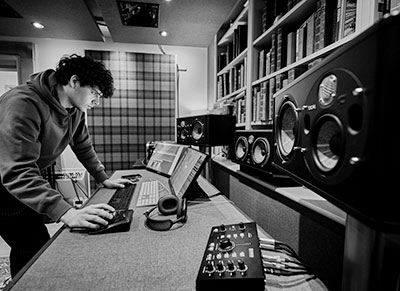 Camp attendees make use of four independent studio spaces – the live room, control room, library and writing room. Each of the studio spaces can host between three and five songwriters. Those attendees who are set up in either the library or writing room require just a couple of mic preamps – which is where the iD14 comes into play.
'The pace of writing camps tends to be very quick,' explains Decoy Studios' Camden Clarke. 'They need the equipment to be easy to use and quick to set up so that they can track top liners as ideas come to them.
'With the new iD14, you're able to use phantom power without a power supply and don't need to download a driver in order for the interface to be working. Clients often use this interface in series with a Sontronics Mercury and Distressor giving them great results.'
The live room – with many instruments on offer – uses Audient's larger iD44 audio interface. 'This allows them four mic preamps, which are usually used for vocal, guitar and piano L+R,' Clarke says. 'The artist tends to jump between the rooms throughout the day, allowing them to collaborate with different groups of songwriters over a one to two-week camp. With this type of session we can expect anywhere between five and 20 writers using the studio.'
Decoy Studios also boasts the Nero from Audient, which centralises and connects all monitoring in a single desktop controller. 'Using either of the audio interface units with the Nero gives songwriters the perfect setup as they often request a monitor station which provides them with multiple headphone levels,' Clarke says.
Writing camps are organised by artists' management or label and, according to Clarke, have proves to be a great success this year: 'Decoy Studios offers well equipped rooms, naturally lit spaces and acres of beautiful surrounding countryside. This combination provides clients the workspace they need to collaborate talent, minimise distraction and maximise the creation of new music.'
More: www.audient.com