Part of the Dulwich Estate in Southeast London, Christ's Chapel of God's Gift has recently been equipped with a new audio system, designed by About Sound Ltd and installed by NoiseBoys Technologies, using loudspeakers from Outline's Architectural Series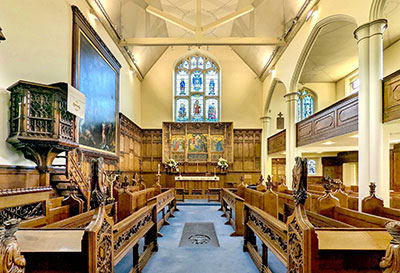 Consecrated in 1619 by the Archbishop of Canterbury, the chapel provides a place of worship for the schools supported by the Dulwich Estate, the residents of the Dulwich Almshouse and the local area in addition to offering a range of community and volunteering activities.
In common with many historic sites of Christian worship across the UK, the chapel presents challenges to speech reinforcement. Its naturally reverberant internal layout requires careful placement of loudspeakers with suitable dispersion characteristics to achieve the required intelligibility. Additionally, the fabric of the Stuart-era building has to be respected in terms of how equipment is mounted and installed, while the aesthetics of the space as a place of worship demand that everything is as close to invisible as possible.
Cambridge-based About Sound Ltd is one of the UK's leading specialists in house of Worship projects, with expertise extending to public address and webcasting systems, hearing assistance, projectors and screens and organ video relay. The company's design for Dulwich relied on Outline's Ai81 and Ai41 loudspeakers driven by Powersoft Mezzo amplifiers, part of a complete audio solution installed by engineers from NoiseBoys.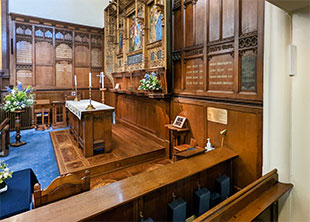 'Only one AS6 sub was required with two Ai81s doing stereo LR at the front, and a secondary pair of Ai81s for fill, and ten Ai41s for the aisles and balcony fills,' says About Sound owner, Matthew Dilley. 'The amps are Powersoft Mezzo, which already have the presets for the loudspeakers, making commissioning easy. Also, because the horizontal dispersion is a little wider than some column speakers, we were able to mount a bit higher which offsets the proximity to the first pair of ears, so to speak, giving us more consistency of level.'
'The Outline Ai series are a welcome addition to our installation offering,' adds Phill Beynon from NoiseBoys. 'They are similar in size and appearance to some other brands' models, but in tests we have found them to be of superior sound quality. The ability to easily mount them through the front of the speaker, then hide all fixings with the magnetic grille is great attention to detail from Outline, so overall we're really impressed.
'Installing in lots of historic buildings as we do, well-thought-through speakers like this make our job as installers much easier. We can hide them in places that other speakers and speaker brackets simply won't fit and once they're installed they're invisible to most passers by, which is exactly how it should be.'
'The customer says people go in and ask where the speakers are – which is exactly what we aim for in this kind of heritage setting,' Dilley concludes.