LiquidSonics has announced the addition of Reverb Foundry to the LiquidSonics brand.
Itself responsible for the Cinematic Rooms, Seventh Heaven, and Lustrous Plates reverb plug-ins, LiquidSonics now counts the Reverb Foundry's HD Cart, an algorithmic reproduction of a rare expansion cartridge for a classic digital hardware reverb unit, and M7 Link, a controller for the Bricasti M7 hardware reverb part of its catalogue. Reverb Foundry's most recent release Tai Chi, has become a secret weapon among reverb aficionados, blending the design styles of multiple reverb houses in a new creation fit for Atmos-equipped workflow.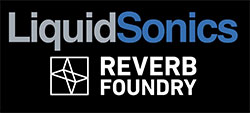 'The addition of Reverb Foundry to the LiquidSonics brand will bring the most comprehensive line-up of reverb plug-ins in one place,' Liquidsonics says.
'With a new update coming to the HD Cart plug-in to offer Atmos compatibility, this will mean LiquidSonics will offer five different Atmos compatible reverbs. Each reverb has a distinct design ethos, sound, and set of features, giving both music and post professionals an extensive choice of reverb plug-ins to use on their music, TV, and movie projects.'
Unlike a typical acquisition where a brand brings onboard something that has been bought from outside, in this case it's bringing together things built by the same developer. This means the Reverb Foundry products will continue to be maintained and developed just as you would expect from LiquidSonics – the same quality, all available in the same store with the same support.
'I was involved in the Reverb Foundry brand in a development role from the start.\ says LiquidSonics founder, Matt Hill. 'However, over time the two businesses have been drawn closer together, so now we are bringing reverb foundry products under the wing of the LiquidSonics brand fully. The Reverb Foundry name will continue, but as a part of LiquidSonics.
The addition of the Reverb Foundry line means LiquidSonics is now presenting the most diverse range of reverbs in the industry, most of which have Atmos capability or an Atmos-capable version available. Existing customers of both brands will have no transition issues, their purchases, access to downloads and support, and discount vouchers will remain unaffected.
More: www.liquidsonics.com