Modern-day electronic music pioneer Richard Devine has six critically-acclaimed albums under his belt, and is well known as a commercial sound designer. Recently, he began exploring L-Acoustics' new spatial audio platform for music creation and mixing: L-ISA Studio.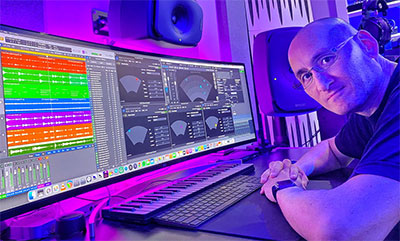 Devine is no stranger to immersive audio and surround formats, having evolved his own compositions and performances in parallel with industry innovations. In 2005, he gave his first immersive live performance at San Francisco's Recombinant Media Labs (RML), which featured 16:9 video screens and an L-Acoustics 20.8 surround system. At his Devinesound studio in Atlanta, routinely works in binaural, 5.1 and 7.1.4 audio formats. 'The playground has just become so much bigger, and there are no limits to what you can do with it,' he says.
His forthcoming album – which will be mixed entirely in L-ISA Studio – will feature 'epic adventures' and make the listener feel like he or she is 'inside this entire cerebral world of soundscapes and textures'.
Divine says that L-ISA Studio has given significantly more control over his object-based audio mixes. 'What's great about this platform for the kind of music I make is that there is so much gestural movement in the soundscapes I create. I can have each sonic element on different axis, flying different paths around the room, or I can have sounds collide with each other and explode, melt and morph. It is probably the best format I could have graduated to as far as taking my music to the next level for the type of music I am making.'
Once he began running the software alongside Ableton and Logic he was pleased with its intuitive layout and extensive control over various sonic parameters: 'I guess the best way I can describe L-ISA Studio is that it is very clever and elegantly laid out,' he says. 'The visual representation of the controls – where you can see all your sound sources, trims, monitoring and your group lists – is very hands-on and immediate.
'To access spatial controls in most other applications, you have to open up the object panner to see all the necessary information. But here, I can just click up and down on the ID name and see everything I need to in one place, and I can make refined adjustments. It is super smart.'
Since Devine spends much of his time on the road, he is happy to be able to work on mixes on a laptop while in transit, and then translate them to his 7.1.4 studio monitoring system using L-ISA Studio. 'If I want to do a binaural mix on my laptop, I can do that quickly, but if I want to mix in 7.1.4, I can plug in my interface and set up my configurations, sample rates, designated output channel range and I am off to the races. It is pretty easy to get things up and running.'
Another big differentiator for Devine is L-ISA Studio's ability to process and render audio with greater efficiency: 'With object-based audio, there can be walls you can hit very quickly on things like buffer size and processing speed. Other platforms can be very clunky, and sometimes you actually need two computers just to run the renders. L-ISA Studio is integrated into a single, completely software-based controller/processor environment. Everything should be so easy.'
The sounds that Devine uses for his compositions originate from a variety of sources – these include his own sample libraries and a vast array of electronic instruments – including several purpose-built modular synthesizer cases. From his modular synthesiser, Devine is bringing in 32 tracks at a time into the DAW via two nw2s output modules along with each of his other sound sources.
He then runs his tracks through a pair of Dangerous Music 2-Bus+ analogue summing mixers and uses a Flock Audio Patch to route any of these 32 channels through analogue hardware devices in his studio. 'I have a hybrid system here, so I use a combination of both hardware and software in most of my work,' he says.
When it comes to creating and mixing in spatial audio, Devine says there are really no rules. 'It's not like a pop track where you always have the vocal in the centre and the drums in a static position. With experimental electronic music and the tools we have now, nothing is too wild or strange. I want to provide audiences with interesting auditory experiences to make them feel like they are literally inside this cerebral world of soundscapes and textures. I want to push my music to the edge and to the extreme, so there are no limits.'