Having started out with just 30 members in 2004, the New Beginnings Christian Fellowship Church (NBCFC) in Boksburg, Johannesburg, now regularly welcomes upwards of 1,000 congregants to its Sunday services.
In response, the church recently upgraded its audio system, becoming one of the first in South Africa to use a Klang:vokal immersive in-ear mixing processor, along with seven Klang:kontroller personal monitor mixers, two DiGiCo SD9 mixing consoles and the new L-Acoustics A15 loudspeaker system.
Audio consultant Victor Vermaak worked with DWR Distribution on a design that would provide reliability and high-quality sound for years to come: 'The old audio equipment was outdated, not serving the needs of the church nor covering the venue properly, and was starting to break down,' he explains.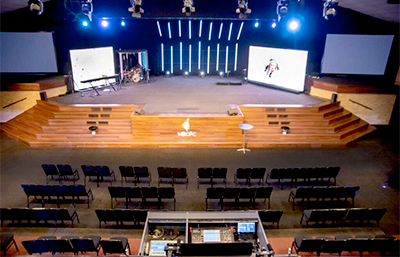 Having worked with the NBCFC over the past seven years, Vermaak loaned demo equipment to the church for a couple of weeks: 'The church broadcast team spoke about a positive change in the audio over those two weeks,' recalls Jaco Beukes from DWR's Audio Sales team. 'The only thing different was the demo DiGiCo console.'
In 2021, the time seemed right to take things forward, with the Covid-19 restrictions preventing people from physically attending church. 'It was the first Klang processor installation DWR had worked on with the recently released Klang:kontroller,' says Kyle Robson, also of DWR Audio Sales. 'We had fantastic support from Klang when setting the system up for the first time. It was a great learning curve for everyone and incredible to experience the power inside the units. The next step was to guide both musicians and engineers to change their mindset from traditional stereo in-ear mixing [some were also on mono] to Klang's immersive mixing.
'With a bit of training and experimentation, the results were incredible,' he continues. Nothing beats watching people get so excited and passionate about what they do. With many of the church technical team working on a volunteer basis, most of the training was held after hours or over weekends. They were so gracious, and always made sure we were well looked after on-site. After the installation and training, everyone agreed they had the knowledge and tech to keep them going strong for many years ahead.'
The full audio revamp includes two DiGiCo SD9 digital mixing consoles, one at FOH with the Klang system for in-house services, and the second with a Waves SoundGrid system for the broadcast mix. The L-Acoustics PA system comprises six A15 wide elements, four KS21 subs and an LA12X amplified controller. The X8 delays and monitors, four of each, are powered by an LA4X Amplified controller.
'The new system is more than just a hearing difference,' Robson concludes, 'it has made an emotional difference.'
More: https://digico.biz