AV Distribution, the dedicated distribution division of the Stage Audio Works Group (SAV) headquartered in Midrand, South Africa, has struck an exclusive distribution agreement with wireless communication specialist Hollyland.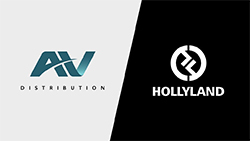 Established in 2013, Hollyland's wireless solutions are designed for wireless audio and video transmissions and wireless intercom systems for real-time team communication. 'Rapidly becoming one of the most competitive global wireless device and solution providers, the Chinese company's products are redefining the way people interchange and share ideas, visions, and creativity every day around the world,' says SAV.
The Holloyland product range includes high-quality, affordable solutions for wireless video broadcast, monitoring and live streaming in addition to wireless microphones and intercom on the audio side, plus a host of useful accessories.
'Hollyland products combine versatility with innovation and a refreshingly robust build quality,' notes AV Distribution General Manager, Ashley Coleman. 'Suited to a wide range of applications, from media production to broadcast, live streaming, and more, Hollyland's wireless audio and video solutions will be particularly welcomed by our partners serving the broadcast and live events sectors.'