LEA Professional amplifiers with cloud- and IoT-based technologies wins EN54-16 voice alarm certification.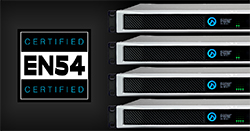 With EN54 certification, the Connect Series is tested and approved for use in life safety and voice evacuation systems, confirming compliance with the strictest local standards, enabling LEA Professional amplifiers for use in an even wider variety of installations.
The LEA Professional Connect Series EN54-16 voice alarm compliant amplifiers include 352, 354, 702, 704 Network models as well as the 352D, 354D, 702D, and 704D Dante models. These models are IoT-enabled commercial-grade audio amplifiers, suited to small- to medium-sized installations. The Connect Series also features cloud connectivity allowing use of the cloud for remote control, monitoring and configuration from any personal device. Connect Series also features HiZ and LoZ channel-selectable analogue inputs, and external I/O control for remote on/off and fault monitoring.
'We work hard to make our products adaptable to all types of installations, helping make the work of our integrators and end users a little bit easier,' says LEA Professional Application Engineering and Consultant Relations Manager, Nick Mourn. 'Safety and reliability have always been a top priority to us, and with EN54-16 certification, the Connect Series range can be used to meet the needs of a diverse range of projects.'