A joint venture between AmazeVR and SM Entertainment, Studio A is to produce immersive VR concerts using AmazeVR's proprietary VR concert creation tools while drawing on SM Entertainment's extensive network of artists.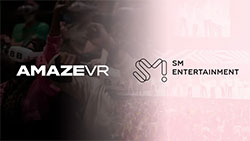 The deal ties AmazeVR in with Asia's premier entertainment group SM Entertainment and Studio Kwangya on Studio A, which will be based in Seoul, South Korea. SM Entertainment is South Korea's largest entertainment company pioneering and leading the global emergence of K-pop since its establishment in 1995. SM Entertainment has an interest in applying technology to the entertainment business, and is grafting virtual reality into the activities of its artists.
AmazeVR will bring its VR concert creation tools to Studio A, allowing the company to efficiently create high-quality VR concerts. These tools include custom 3D VR camera and stage set-up, Unreal Engine-based VR VFX Tools, and AI modules to automate manual tasks. Concerts will be distributed exclusively through AmazeVR's VR music metaverse service and SM's VR metaverse service.
'SM is excited to expand our market to include metaverse content for artists using AmazeVR's industry-leading VR technologies and proprietary concert creation tools,' says SM Entertainment CEO, Sung-su Lee. 'We've had a great interest in this market and see the opportunity for our artists in the metaverse. AmazeVR shares the same vision for this next generation of music.'
Recently, SM's new girl group Aespa made their debut both IRL and in the metaverse. They announced a deal with Warner Records in early June 2022 and played their first US live show at Coachella 2022. Other artists on SM's roster include NCT, Super Junior, Girls' Generation, Shinee, Exo, Red Velvet, SuperM, TVXQ, and BoA.
Studio A will draw on SM's artists, along with other K-pop and Asian artists to build AmazeVR's impact in VR concert creation and distribution platform. 'We're thrilled at the prospect of working with SM to collaborate with K-pop and other Asian artists, as well as other Asian music companies, through our new partnership,' says AmazeVR Co-CEO, Ernest Lee. 'They've influenced K-pop globally, united the music industry across the continent, and brought unique and energetic performances to worldwide audiences. We're going to see some phenomenal VR concerts.'
'Our JV partnership with SM Entertainment will deliver mesmerizing, fully immersive VR concerts featuring mega K-Pop stars,' says AmazeVR Co-CEO, Steve Lee. 'Never before have fans been able to experience their favourite artists in such an intimate and personal way. Get ready to see captivating choreography as the music comes to life, with the fan centre stage.'
More: https://amazevr.com