Following Fast-and-Wide's short news story earlier this week, an official announcement has been released by Martin Audio on Rob Lingfield's passing:
It is with deep regret that Martin Audio announces the passing of its former Sales & Marketing Director (and Chairman of Plasa's European Regional Board), Rob Lingfield, who has lost his fight against cancer aged 59.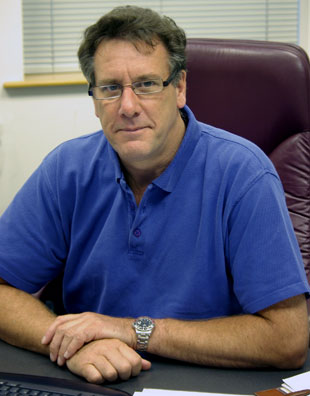 Highly respected in the pro audio industry, Rob's name became synonymous with loudspeaker manufacturer Martin Audio. He served as a director until taking on a consultancy role, which saw him actively involved in the development and launch of the award-winning Multi-cellular Loudspeaker Array (MLA) system.
Training as a drama teacher Rob Lingfield initially worked as a DJ, promoter, lighting designer and roadie. He then joined ERC (Electronic Research & Construction) before forming Hill Audio (who built the PA system for the Live Aid concert in 1985, and was later sold to Millbank). Moving to Renkus-Heinz, he spent three years building its international business before arriving at Martin Audio in 1998.
Martin Audio Applications Engineer, Peter Child, was a long-term colleague, remaining with Rob during each of those career phases.
'I first worked for Rob in around 1992, in the Hill Audio division of Millbank, then again at Renkus-Heinz, where the pair of us worked together in his home office, and finally at Martin Audio. His work ethic and determination to get the job done was an example to all. He had the ability to make people see what they could achieve and encourage them to exceed their personal expectations. He would certainly let you know if you screwed up on something, but then later he would buy you a pint – real ale of course!
'Over the years he became much more a friend than a boss, a man with a generous personality. I shall always remember my last meeting with him, a pub lunch of course, when despite his circumstances he maintained his usual sense of humour. To me he will always be the Guv'nor, he was a great bloke, and I have lost a good friend.'
Plasa CEO Matthew Griffiths was equally unstinting in his praise, noting that despite battling cancer for over a year it was a testament to Rob's courage and strength that he continued to play an active role in the industry right up until the final month.
'Rob was an influential and strong advocate of Plasa which saw him lead the organisation as Chairman from 2007 up until the present day. His ability to see the bigger picture and ask crucial questions of the Plasa management ensured that a clear direction has been followed over the past five years, including the successful merger with ESTA. His energy, counsel and support will be incredibly missed by us all. Our thoughts are with his family, his colleagues at Martin Audio and the many, many friends he has in the industry.'
Martin Audio Managing Director, Anthony Taylor, added: 'The company's mantra has always been that the most important assets of the business are its brand and its people, and Rob Lingfield was one of the stalwart key personalities and contributors to the Martin Audio business – driving both the growth and success of the company.
'Finding a more balanced approach to his personal and work life in 2009 did not change the energy and passion he exuded in his new role as consultant and key advocate of the new MLA technology.
'His legacy will continue in the sales team that he built following his philosophy of care for his colleagues and his customers, and in the burgeoning success of the new MLA technology. Rob taught us not to let our minds overtake our hearts and to follow the right course of action… not the most expedient. His joy of the good things in life, his optimism and great counsel as a colleague and a friend will be a loss not only to the business but to the industry.'
Rob Lingfield is survived by two sons, Edward and Harry from his former marriage, and partner, Andrea.
The funeral service will be held at St Michael's Church, Smarden, Kent on Tuesday 12 July 2011 at 11:00am, and afterwards at The Bell Inn, Smarden.