With her Coachella debut in April and appearance at The Governors Ball festival in New York in June, Chelsea Cutler's When I Close My Eyes tour marks the start of the young artist's relationship with Brit Row. The tour began in Austin, Texas, and is running under the care of New York based Mutual Friends, an Artist Management company.
'I'd never worked with Brit Row until now,' says Production Manager, Alex Slohm. 'The overall service has been excellent, and the gear has been immaculate. I heard from our Account Manager, Marc Soame, after the first couple of shows to check in but all I had to say was how pleased I was with everything.'
One of the major advantages for Slohm is the ability to alleviate some of the inconsistencies encountered encounter when using house PA systems. 'The fact that I was able to walk into rehearsals on day one knowing that my FOH/monitor engineer, Michael Mason, had everything he needed made me feel super comfortable,' he says.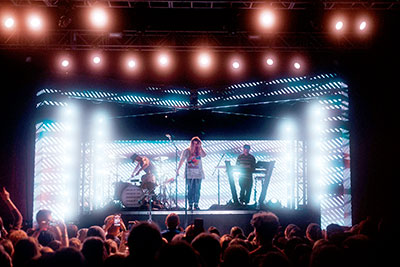 'There are so many variables that go along with each venue's rig that can cause problems. Being able to remove any inconsistencies with a collection of audio equipment that is set up the same way and a mix that's pretty much ready to go, makes me feel quite relaxed and ready to take on the other tasks required of me.'
Concord Touring's Dylan McDougle worked with Chelsea Cutler's management team at Mutual Friends to define the tour's staffing and equipment requirements, hiring Mason and Slohm, and consulting with them to design and assemble an audio package and playback system that met the tour's needs. 'The rig had to be both lightweight in terms of the ease of set/strike and fly configuration, and bulletproof in terms of redundancy and simplicity,' he says.
In addition to the hardware systems design, McDougle was present during rehearsals and worked with the band and the musical director to program playback and show control. 'I work as a liaison between the touring crew and artist management to make sure that the team on the ground has the tools and resources to be able to do their job effectively, and that management's needs are being met in terms of budget and logistics,' he explains. 'I'm also the point of contact for the lighting and video content teams to coordinate the implementation of SMPTE time code as it relates to the visual aspect of the show.'
Mason has a DiGiCo SD12 at FOH with a Waves Soundgrid server to add plug-ins to his mixing palette. 'I'm rocking the 96-channel upgrade of the SD12 so I can multi patch and mix FOH and monitors separately,' he says. 'On stage I'm using mainly Shure microphones for the drums and wireless gear; two channels of Shure vocal RF and two sets of guitar RF. On the IEM side, we're using my personal favourite – Shure PSM1000s.'
Playback Tech Xavier Ceballos opted for Ableton Live for playback and show control, as well as Universal Audio and Line 6 hardware for live signal processing. 'I do my best to recreate the sonic world that Chelsea crafts on her albums, which is based around her airy, silky vocals, thick walls of synths, and intricate organic instrumentation,' he says.
'As a drummer, my speciality is making drums sound big and impactful without feeling like they take over the mix. Chelsea's drummer, Gavin Chops, makes my life easy by being the hardest hitting player I've ever worked with. I like to make sure everyone in the audience can enjoy the energy Chelsea and her band brings.'
Mason selected the Shure KSM9 capsule on the artist's vocal microphone and JH Audio Roxanne in ears for her monitoring. 'I'm creating mixes for Chelsea, her drummer, and her keyboardist, while her Playback Engineer, Production/Stage Manager and Video Tech are all sharing a mix,' he says. 'Everyone's mixes are tailored to their own tastes and needs for optimal performance, and this tour we introduced stage side fills to allow Chelsea to take an ear out and connect more with the audience.
'Brit Row are one of my favourite audio suppliers,' he adds. 'I was able to stop by the shop in Nashville and go through my gear before it was shipped out, and the guys had already put together our stage racks and made everything super seamless going into production rehearsals.'
'It's been quite a whirlwind coming back into these shows after everything our industry has been through,' Slohm concludes. 'Chelsea's last headlining tour was right before the Covid-19 shutdown, so to be brought in for her first headlining run after two years has been exhilarating. I'm bouncing around between side-stage and FOH the whole evening and the energy I feel from the audience keeps me going. It's so great to be doing what we love again and to be bringing this show to all these fans over this run.'
Alex Feld of Mutual Friends Artist Management agrees: 'Britannia Row has been amazing to work with. As always, they have provided world class gear and support on tour and we couldn't ask for a better partnership with an audio company.'