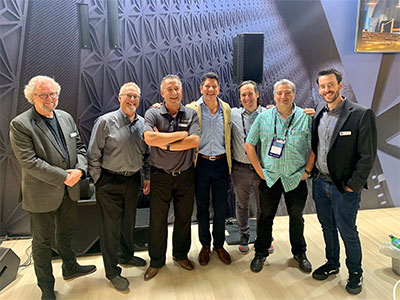 Renkus-Heinz has announced its partnership with Mexico City-based distribution company, NTX Distribution in a move to bring new options to systems integrators, consultants and end-users in Mexico.
'With shared values we can empower our customers to provide the best audio solutions possible,' says states Renkus-Heinz VP of Strategic Development, Graham Hendry. 'Mexico is an ever-expanding territory for us at Renkus-Heinz. We are eager to work with NTX Distribution to bring quality sound to more corporate, commercial and education projects throughout Mexico.'
NTX Distribution offers audio, video and lighting solutions for commercial and custom installation projects, as well as A/V rental companies. Partnering with Southern California-based loudspeaker manufacturer, Renkus-Heinz, enables NTX Distribution to provide its customers with advanced technology, such as digital beam steering.
'With shared values of providing customers with innovative and effective audio solutions, the collaboration between NTX Distribution and Renkus-Heinz is ideal for all parties,' says NTX Distribution President and CEO, Manuel Suero. 'Adding Renkus-Heinz to our audio portfolio allows our company to deliver additional sound solutions to a broader range of customers.'
Renkus-Heinz holds a global presence in permanent installations at auditoria, transit centres, sports venues, houses of worship, musical performance venues and in the concert touring industry. The technology portfolio from Renkus-Heinz features robust product lines, including networkable Dante-enabled self-powered loudspeakers with end-user and integrator-friendly features.
More: www.ntxdistribution.com