An all-new radio station taking over the streets of Kigali with a wide range of music, 104.1 Power FM is among the first radio stations in Rwanda to adopt IP broadcast infrastructure and virtualise its radio studios using Lawo Rǝlay virtual radio software.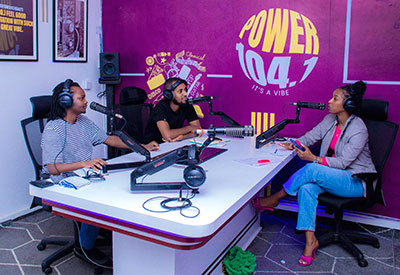 This standards-based AES67 IP infrastructure not only gives operators fast, efficient, and flexible workflows, it requires little traditional hardware. Using only a few components and a small UPS, it also saves space and power by eliminating the need for a technical room. In this new technological environment, a touchscreen for the DJ is taking the place of traditional broadcast mixers. Using only a standard PC, Lawo Rǝlay VRX virtual radio mixer software, coupled with VSC virtual sound card drivers, provide a complete radio broadcast studio solution.
This latest Lawo Rǝlay installation enables remote radio production and broadcasts originating off-site. By leveraging the cost-efficiency of off-the-shelf COTS PCs, Ethernet switches and Cat5 cabling, the station is independent of specialised hardware – all the components can all be acquired locally. This set-up even makes it possible to remotely-control the complete Power FM radio station using a smartphone.
'Creating a radio station was never this easy before,' says 104.1 Power FM CEO, Ken Kayima. 'And Rǝlay controls are so simple that presenters can focus solely on their programmes and listeners. Expansion for inputs or streaming is just plug-and-play; we can connect smartphones as hybrids and integrate any radio playout system.'
'The creativity that Lawo customers display in using our products to solve problems never fails to delight me,' says Lawo Senior Sales Director for Africa, Italy & Balkans, Ralf Schimmel. 'Ken and his team instantly grasped the possibilities that Rǝlay offers, and the benefits of an IP-based virtual radio infrastructure. With these they developed a custom workflow concept that makes Power FM really stand out among Kigali's radio stations.'
'Lawo's virtual options are compelling,' Kayama adds. 'Virtualisation is where the world is heading, and as broadcasters, we can't be left behind. Radio operations should be so simple that presenters can concentrate solely on delivering a seamless experience to the listening audience.'
'We are proud to partner with Ralf Schimmel and the Lawo team on this important project,' says Fred Martin Kiwalabye, Lawo's distributor and Technical Specialist in Rwanda. 'Many stations in Rwanda are recognizing the compelling economic reasons for using these new Lawo technologies to move from cable-centred infrastructures to neat IP solutions. It's Power FM in the streets of Kigali and IP on their website for the world.'
More: www.lawo.com