Hot on the heels of the launch of JH Audio's new flagship in-ear monitor, Sharona, Klang:technologies will soon be giving away five custom Klang-branded free following a contest.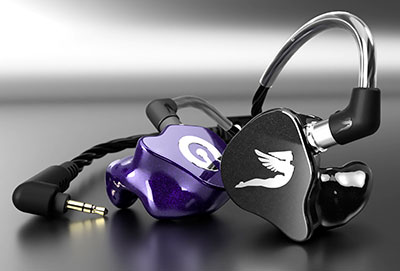 To enter the giveaway, contenders will need to take or find their favorite photo of themselves with any Klang product, then go online to and upload the image. The competition closes at 11:59pm (GMT) on Sunday, 17 July 2022, at which time five winners will then chosen from the images received, with the announcement of the Sharona recipients being revealed on Monday, 1 August.
'Having the best in-ear monitor sound is key to having the best live performance, which is why Klang's immersive processing power and JH Audio's experience in delivering pristine audio quality are a perfect match,' says Klang CEO, Roman Scharrer. 'With more than 25 years of experience in manufacturing the finest high-end in-ear monitors, Jerry Harvey Audio is one of the best known companies and innovators in the field of IEMs, and we're excited to give five of our customers the opportunity to shout, 'M-m-m-my Sharona!''
The left earpiece of this extremely-limited run of only five custom pairs features a silver Klang 'G' over a striking purple sparkle finish, while the right earpiece shows JHA's 'flygirl' logo, also in silver, on a black sparkle surface.
Boasting JH Audio's first-ever 16-driver configuration with a true four-way integrated crossover, Sharona features the all-new Knowles RAU Quad Supertweeter, which produces an extended treble response starting where most balanced armature drivers roll off (12kHz) and pushes out to 25kHz. Combining the punchy low end of the Layla with the smooth mid-range growl of the Roxanne, the newest IEM claims a highly accurate, well-rounded sonic signature. The addition of the RAU delivers expansive stereo imagery full of depth and width while creating more air for high-range reproduction. Paired with Freqphase and Acoustic Sound Chamber, Sharona is fully loaded with JH Audio's industry-leading technology and built for life on the road.
Enter competition: www.klang.com/win