The Assembly Hall Theatre in Tunbridge Wells is a 1,000-seat, multi-purpose venue that offers an exhilarating mix of comedy, classical and opera, dance music, variety, seasonal panto, family entertainment and musical drama. It also hosts the Tunbridge Wells Literary Festival, and is very much part of the local community, actively encouraging participation in the arts for all.
The theatre's work typifies that of many local and regional venues in that its technical team and the equipment on which they rely has to be extraordinarily flexible to deal with the many and various demands placed on it by constantly-changing programmes.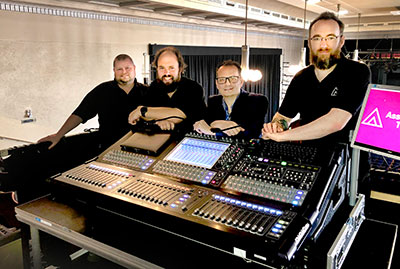 Consequently, when the time came to update the in-house audio mixing and control systems, the Assembly Hall Theatre turned to Autograph to advise on the best options for itself and visiting artists. After consultation it became clear that a DiGiCo SD10T was the logical choice to deliver the required flexibility, and Autograph was asked to supply the new mixing system.
The new DiGiCo console was subsequently delivered to the theatre, supplied with an SD-Rack (fitted with 32-bit I/O cards) and an OpticalCon fibre-optic system. Autograph also supplied and installed new facility panels to carry fibre between FOH, production and sub-stage positions, working with the in-house team who fitted the containment and new cabling. Autograph's team also provided in-depth training on the DiGiCo system, both at the theatre and at their London HQ for the theatre-specific 'T' software.
Stefan Andrews, the theatre's Acting Deputy Technical Manager, was the main liaison: 'When the decision was made to upgrade our sound desk, DiGiCo and its theatre software immediately jumped out as the ideal solution,' he says. 'The SD10T is the perfect format for us here and handles everything we throw at it with ease.'
'The whole system, from the fibre installation to both main and production positions through to training and support from Autograph, allows us to deliver a better product than ever before.'