Established in 1997, Beats Light & Sound has grown to become one of India's leading A/V rental companies and serves large-scale events by artists such as Sonu Nigam, Arijit Singh, Atif Aslam and Honey Singh. With an ever-expanding roster of events in the Delhi based firm's diary, MD Sanjay Chaudhary called on Sun Infonet, Allen & Heath's exclusive distributor in India, to help specify and supply two new systems.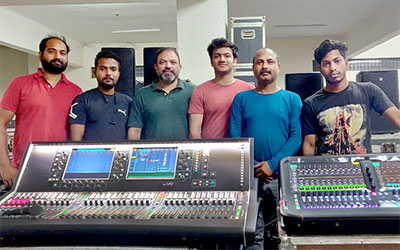 'At this point, most Indian Sound Engineers have worked on an Allen & Heath console,' says Sun Infonet Senior Applications Engineer, Kallol Nath. 'With dLive and Avantis rapidly gaining popularity in India, we're seeing rental companies like Beats Light & Sound investing in these systems to meet the increased demand from engineers.'
The company has accordingly added a dLive system, comprising an S7000 Surface partnered with a DM32 MixRack to its inventory, to handle large-scale events. Built around the 96kHz XCVI processing core, all dLive MixRacks provide 128 input channels and a configurable 64 bus architecture for flexibility, with a choice of seven Surface sizes for hands-on control. The S7000 is the largest Surface in the dLive range with 216 assignable fader strips, via six layers of 36 faders, and dual 12-inch touchscreens which seamlessly integrate with the surrounding hardware controls.
Additionally, Beats Light & Sound has taken delivery of an A&H Avantis console to handle events with a lower channel count requirement. Using the same XCVI technology as dLive, Avantis offers 64 input channels and 42 configurable mix buses with dual 15.6-inch full-HD touchscreens enabling a quick and intuitive workflow.
The systems are complemented by a pair of audio expanders, the GX4816 and DX168, from Allen & Heath's Everything I/O ecosystem. The GX4816 provides high-input-count expansion with 48 mic preamps plus 16 line outputs and can be rackmounted or freestanding. The DX168 features 16 mic preamps and eight line outputs in a rugged stage box form factor. Both expanders are compatible with dLive, Avantis and SQ mixers with simple plug-and-play operation.
As well as supplying the systems, Sun Infonet provided post-sales support including a training visit from Kallol Nath which was well received by the team at Beats Light & Sound. 'Both mixers have a workflow that our engineers absolutely love,' concludes Managing Director Mayank Chaudhary. 'The addition of these consoles to our rental stock perfectly fulfils our goal of providing the latest equipment to our customers whilst delivering solid ROI.'
More: www.allen-heath.com