Set in 277 acres, the Fair Park Multimedia Center (FPMC) is the latest development at Fair Park in Dallas, Texas. Operated by the city's Public Information Office, the 17,000sq-ft square foot production facility extends its media base beyond cable access telecasts to embrace podcasts and social media.
Designed and installed by Digital Resources Inc, FPMC features an array of content creation tools, with a full video production studio, voiceover and podcast rooms, a news insert stage and eight edit suites. Its equipment arsenal includes an RTS Odin digital intercom matrix, a virtual set green-screen system, robotic and studio cameras, wireless microphones, and a full LED lighting grid. There are also A/V-equipped meeting and conference rooms within the facility.
'This is a turnkey facility and every studio and control room needs to be able to talk to the other, so selecting the right intercom system was critical,' says facility designer Tim Davis, Director of Engineering for Digital Resources. 'We went with the RTS Odin – it's a broadcast standard, and we've had a lot of success with it. For Fair Park, we chose the configuration with 32 ports. It's our go-to intercom system, with the flexibility to accommodate multiple simultaneous projects without constant reprogramming. It's very easy to operate, and 32 channels is more than enough for any combination of workflows they may require.'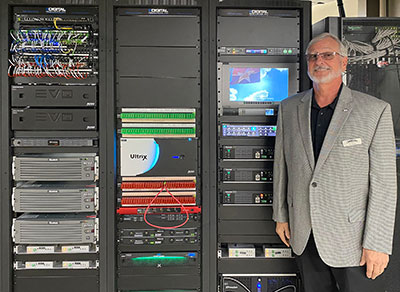 Odin (Omneo digital intercom matrix) condenses decades of experience and the latest RTS innovations into a compact 1U-high package that offers IP technology along with analogue connectivity. Programming the RTS system to precisely meet the FPMC's needs was a major focus for Digital Resources, both in terms of room layout and connectivity.
'Facilities like this usually have a smaller, multi-tasking staff, with people accessing multiple work areas at the same time – like video switching, teleprompter, and audio mixing,' Davis explains. 'That means designing the control room ergonomically so it can be operated by just two or three people. Same thing with intercom routing: we learned all their workflow preferences so that every crew position can operate smoothly and communicate clearly within any production scenario.'
In the control rooms, RTS KP-3016 keypanels are located in each control room work area, equipped with MCP-90-12 gooseneck microphones. Crew positions use RTS PH-88R5 single-sided headsets. Another key element is the RTS Roameo, a DECT-based license-free wireless beltpack system used by the studio floor manager, which allows free movement while working with talent and other crew anywhere in the studio. Digital Resources also tied a playback system for the insert stage and the talent IFB system into the Odin matrix.
According to Davis, the reasons for selecting Odin go beyond the basics of flexibility and ease of use: 'I've used other intercom systems, but RTS is the most user-friendly, both in terms of system design and operation,' he states. 'We work directly with the facility staff to configure and name everything appropriately. When questions come up, RTS customer support is phenomenal – always ready to pick up the phone to answer questions.
'After training, the staff actually started using the facility about a month before the ribbon-cutting, to establish a level of comfort as things came online,' Davis adds. 'That was especially important for some of the video equipment. As for the intercoms, there hasn't been a single issue. And that, in a nutshell, is why we prefer RTS.'